WHEN : January 2018 - May 2018
IN CHARGE OF : User research & audit
Challenge : Vianavigo is a french mobile app that helps parisians searching for itineraries. Their goal is to facilitate commuters' mobility in Ile-de-France region. To do so, Vianavigo's mobile application need an improved user experience to include intermodal transports. As such, the key factor of success is to make sure users understand that using several transportations will not extend their commute. 
Goal : improve Vianavigo mobile application's user-experience to increase commuters mobility. One of the key factor of success includes making sure users understand that using several transportations can be beneficial to them. 
ISSUES DETECTED
Too many options displayed on small screens. 

Clicking the car-sharing option create frictions: the user is redirected toward another app or has to download a new one. 

Displayed pictograms are not homogenous. 

The dark-grey/black color is not the same everywhere. 

Clicking the "previous buttons" does not always redirect toward the right page. 

Some parts are not translated in English (splashscreen, push notifications, in-app alerts) 

Editing an information can lead to erasing the initial entry. 

Descriptions and informations are too "texty" and decrease user focus. 


INTERMODAL TRANSPORTATION
Raise users' awareness of the benefices of using different mode of transportation


GUIDANCE
Be the commuters' little helpers throughout his daily journeys


TOURIST-FRIENDLY
Allow foreigners, tourists and these users who do not speak French to user the app.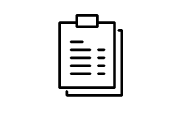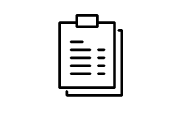 USER RESEARCH
We conducted several qualitative interviews to understand user's habits. 
We wanted to find : their habits when it comes to planning a trip, the types of transportation they would use the most, the mobile applications they are using and the reason-why behind using these apps. 
WHAT CAME OUT
Guidance.
The number one key takeway is that users want to be helped throughout their journey. They feel more confident when they receive assistance during their commute.
It is also important for users to optimize their journey. They want to be provided with answers regarding:
Where to sit in the wagon to facilitate exit or transfer ?
Which itinerary is the best based on their preferences ?
"What I love the most about CityMapper is that the app told me exactly where I should stand in the subway to find the right exit" Marc, Nanterre
Information.
A key takeaway of our interviews highlights the importance for user to have access to several pieces of information before commuting : 
Traffic status on the public transportation lines
When going out, they want to receive a reminder to catch the last subway. 
ETA (Estimated Time of Arrival) for different itineraries and preferences. 
"In the morning, the first thing I do is checking if there is any slowdown along my itinerary" Victor, Paris
Emotions.
For several users, they associate emotions to transportations' mode. As such, trust can be built with the user by : 
Using a friendly tone in the messages to validate his choices. 
Helping them with best itinerary when they want to feel safe. 
Providing him with outside itineraries to make him/her feel good. 
As a whole, building a UX focused on users' emotion is a sure way to build trust and intimacy with him/her.
"I Love to take the bus. To me, this is the best way to see the light of day from time to time" Camille, Paris
PERSONAS. SEVERAL TARGETS, ONE PRODUCT.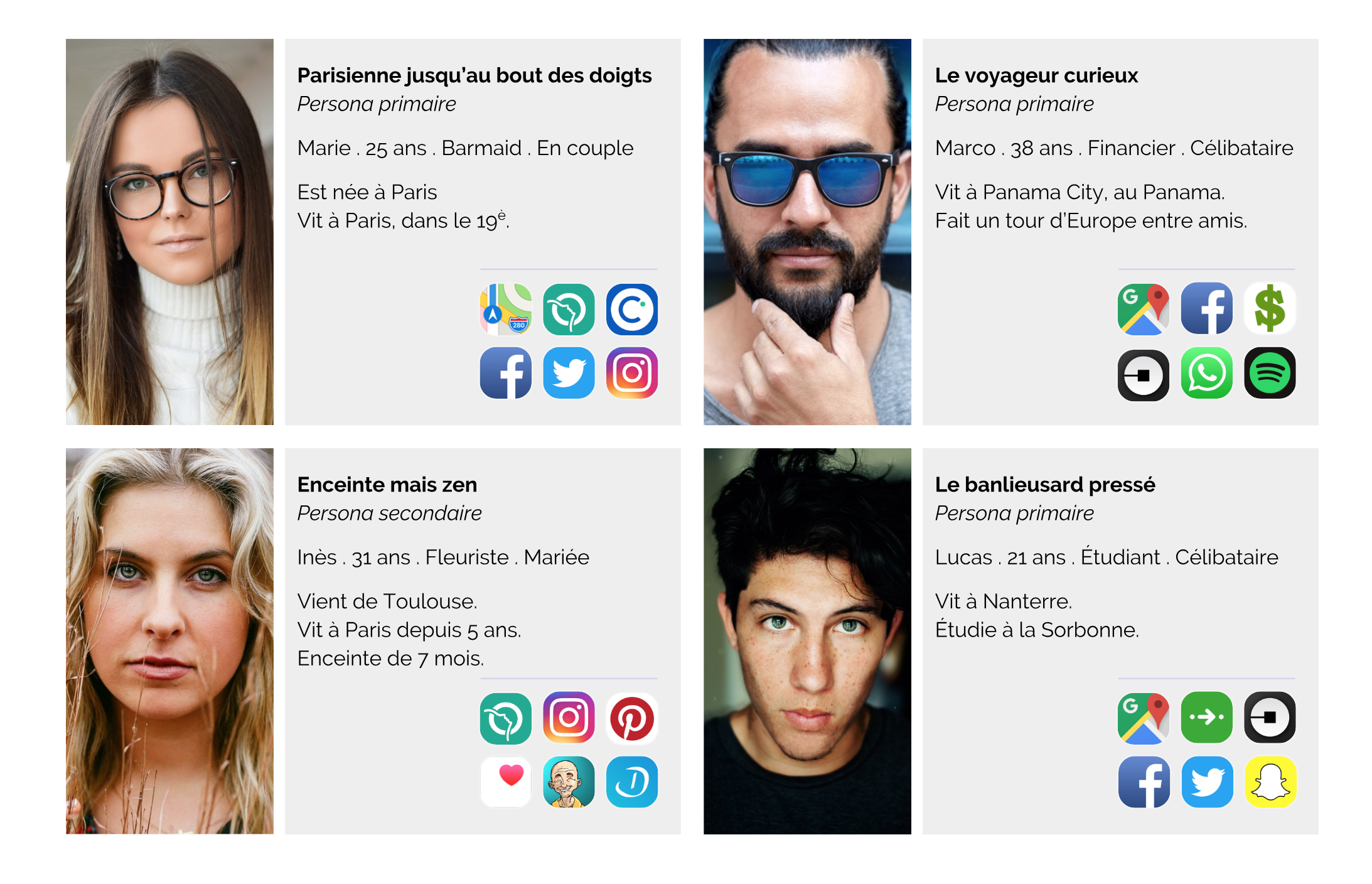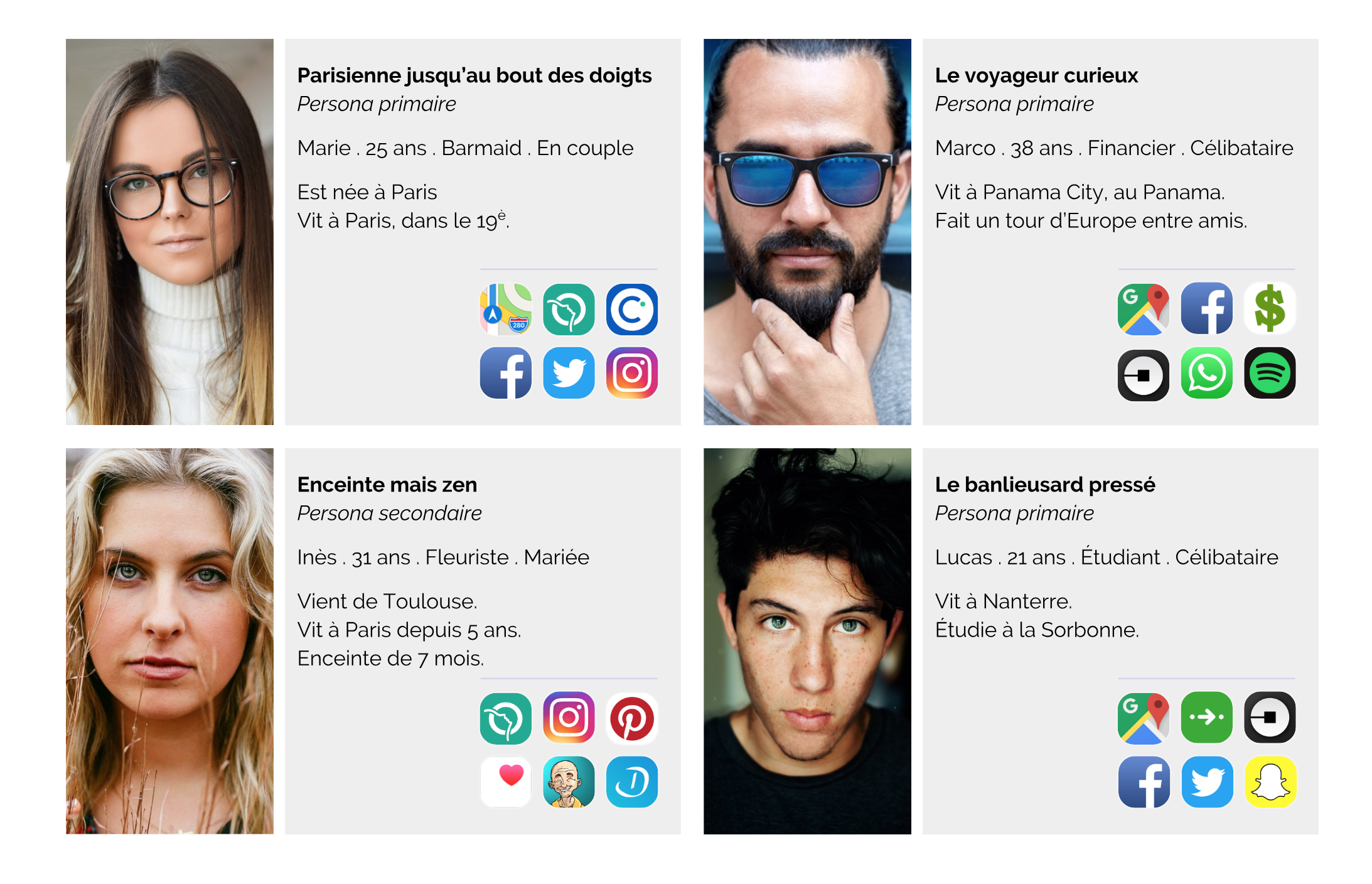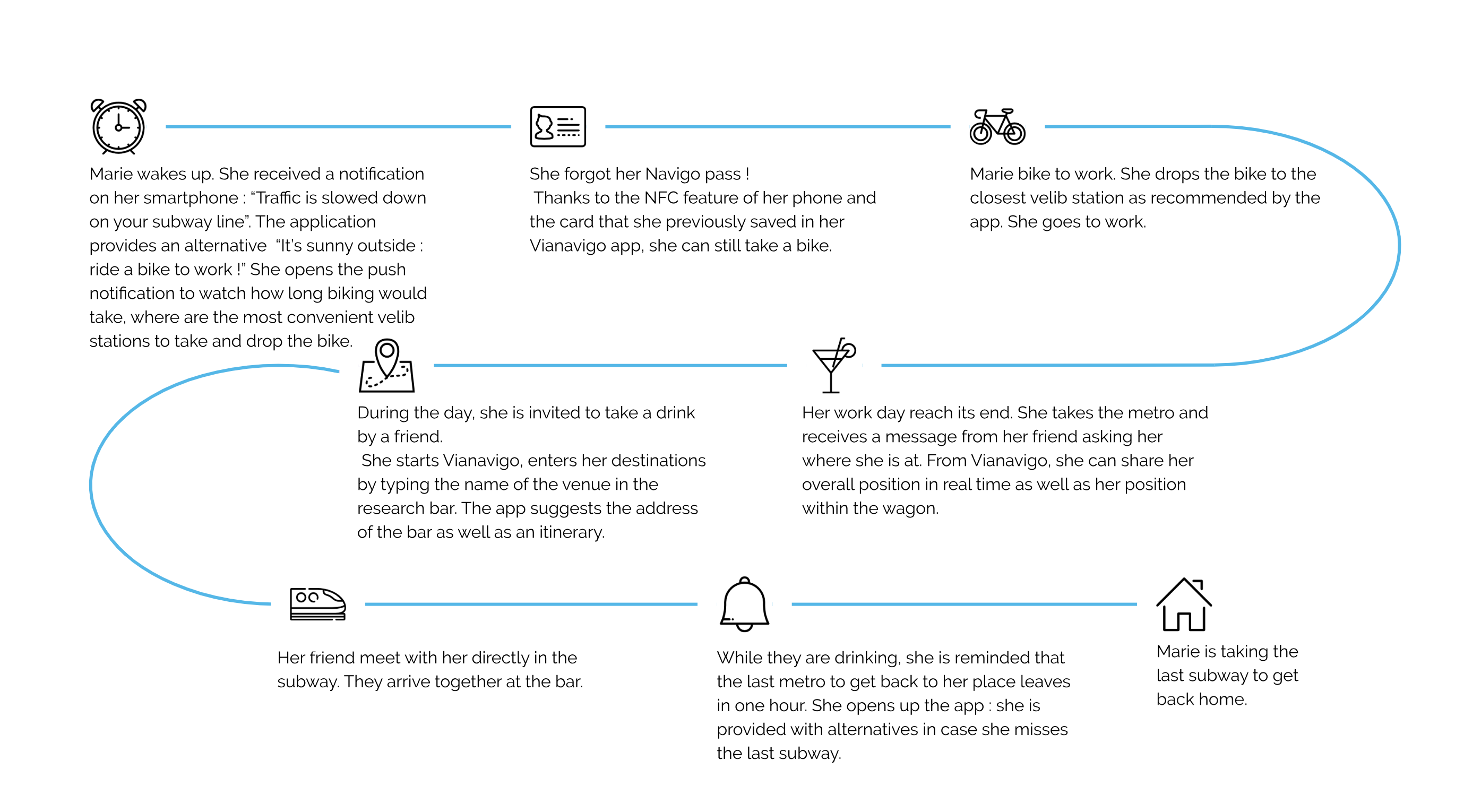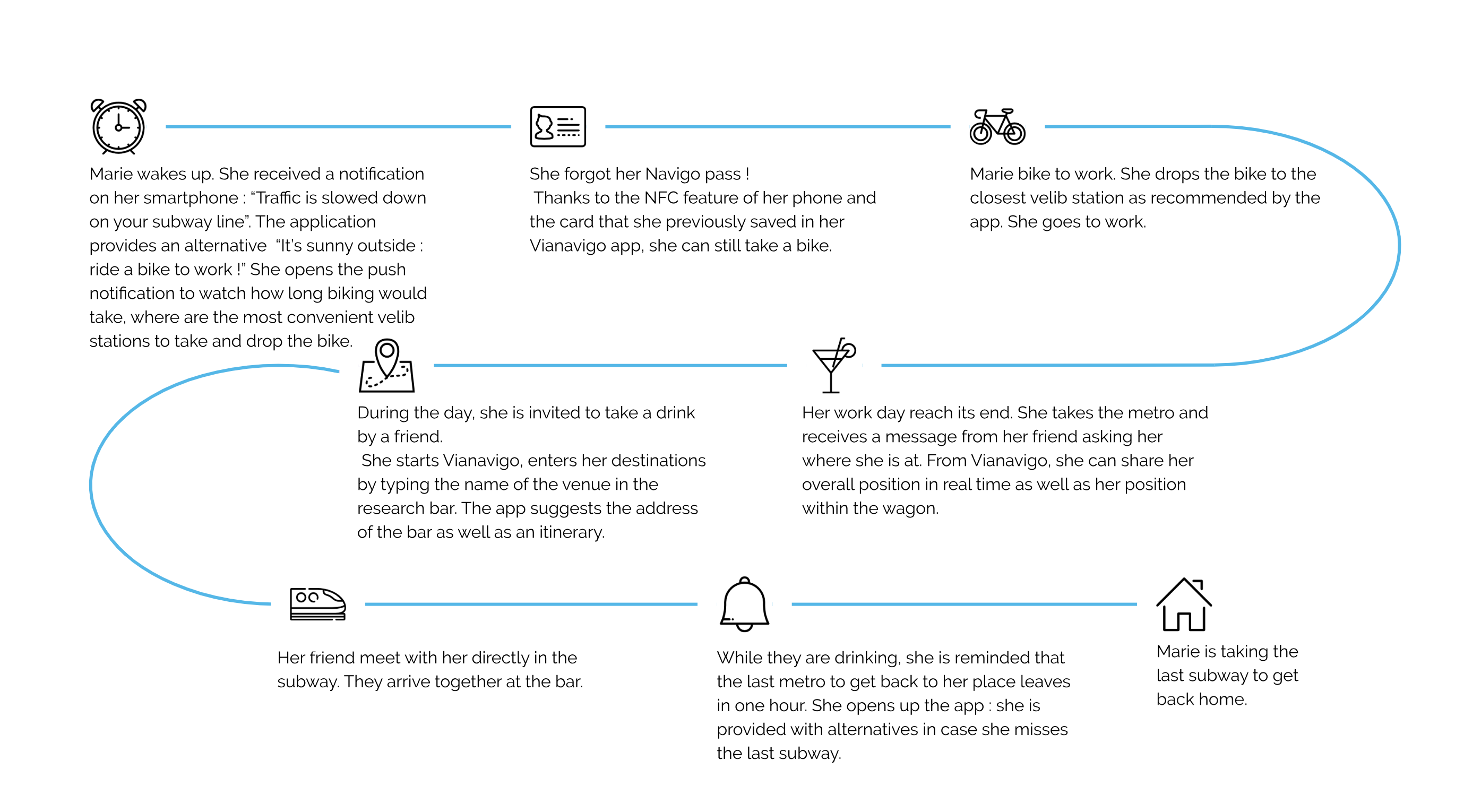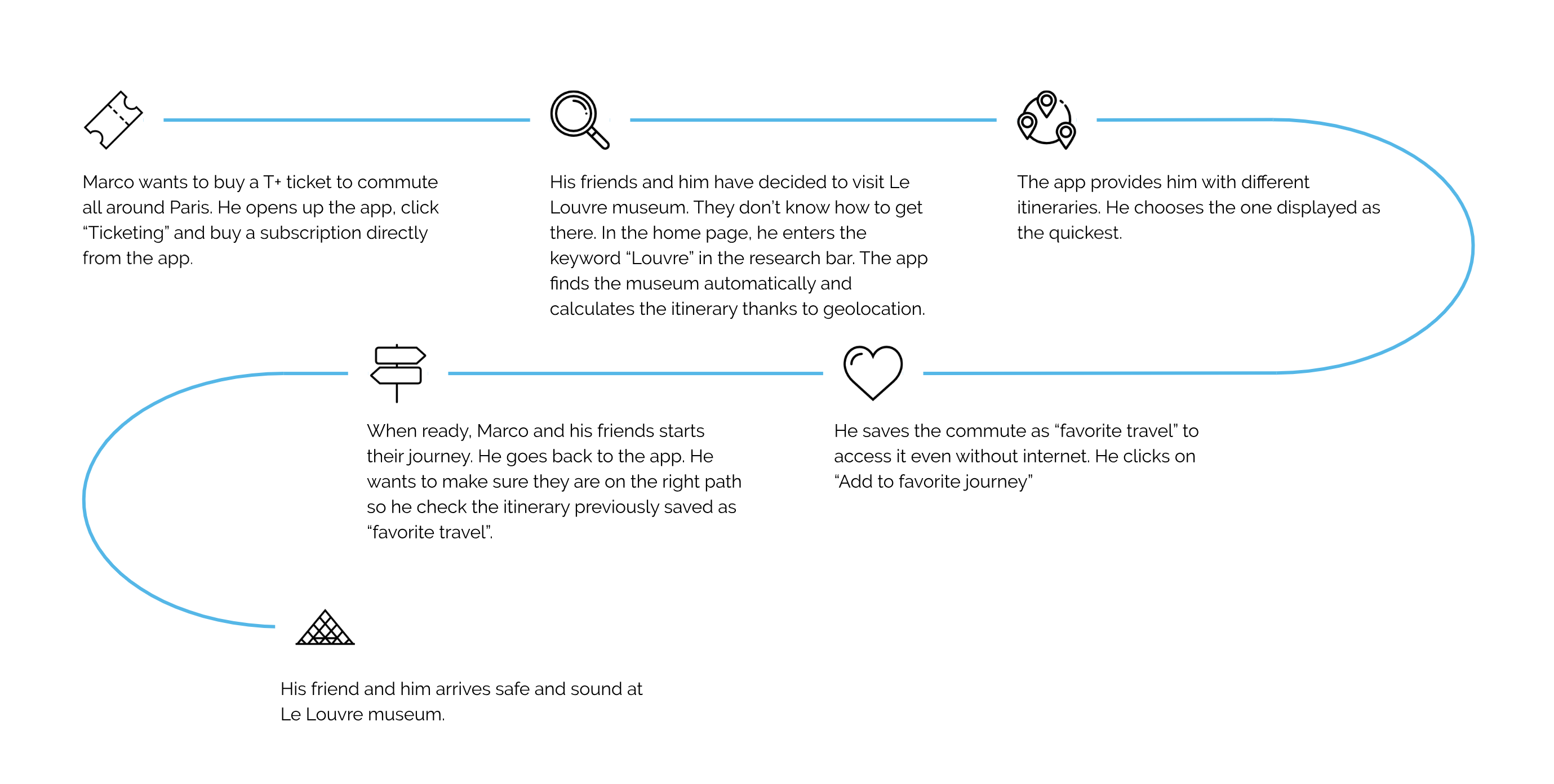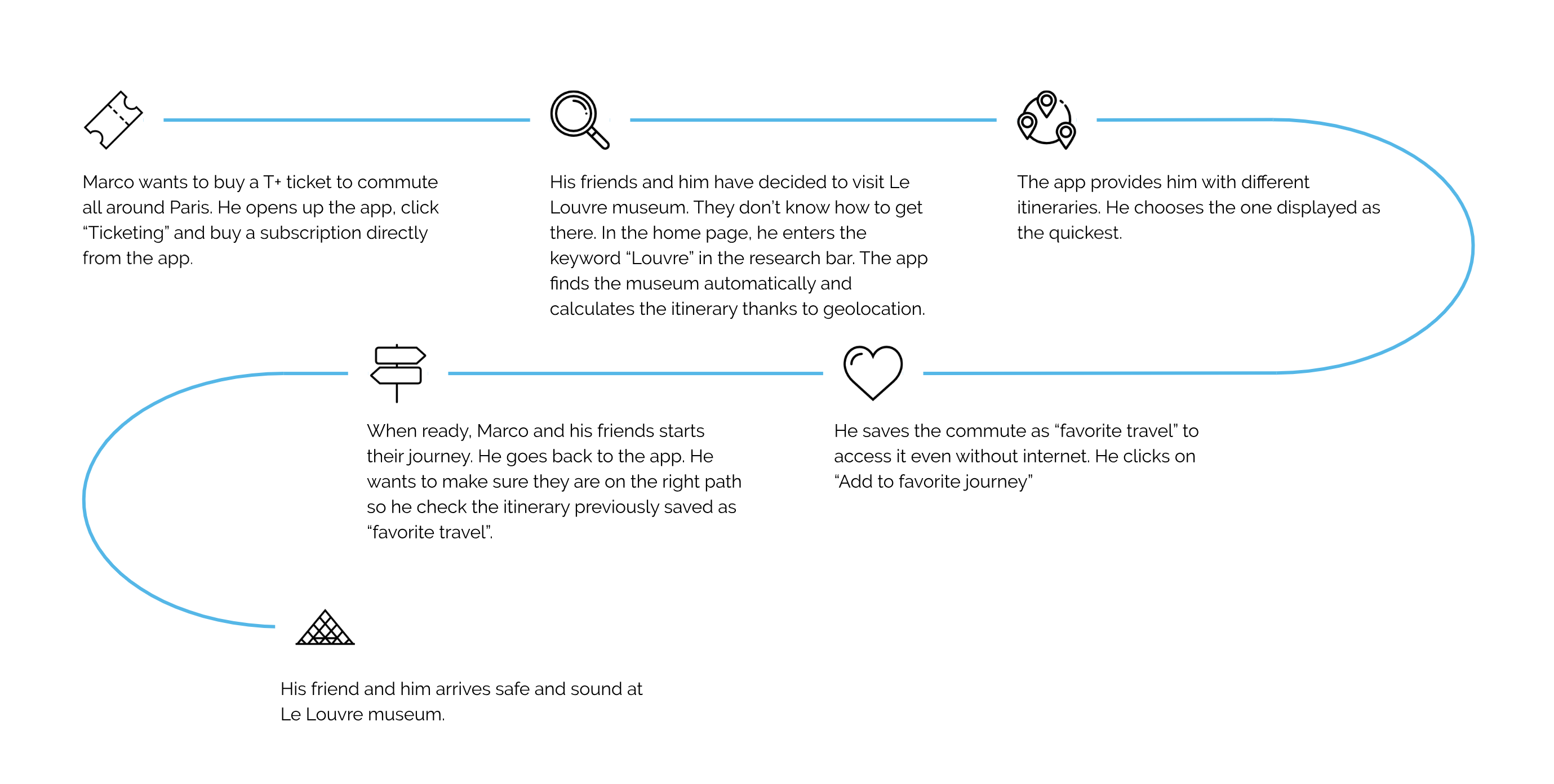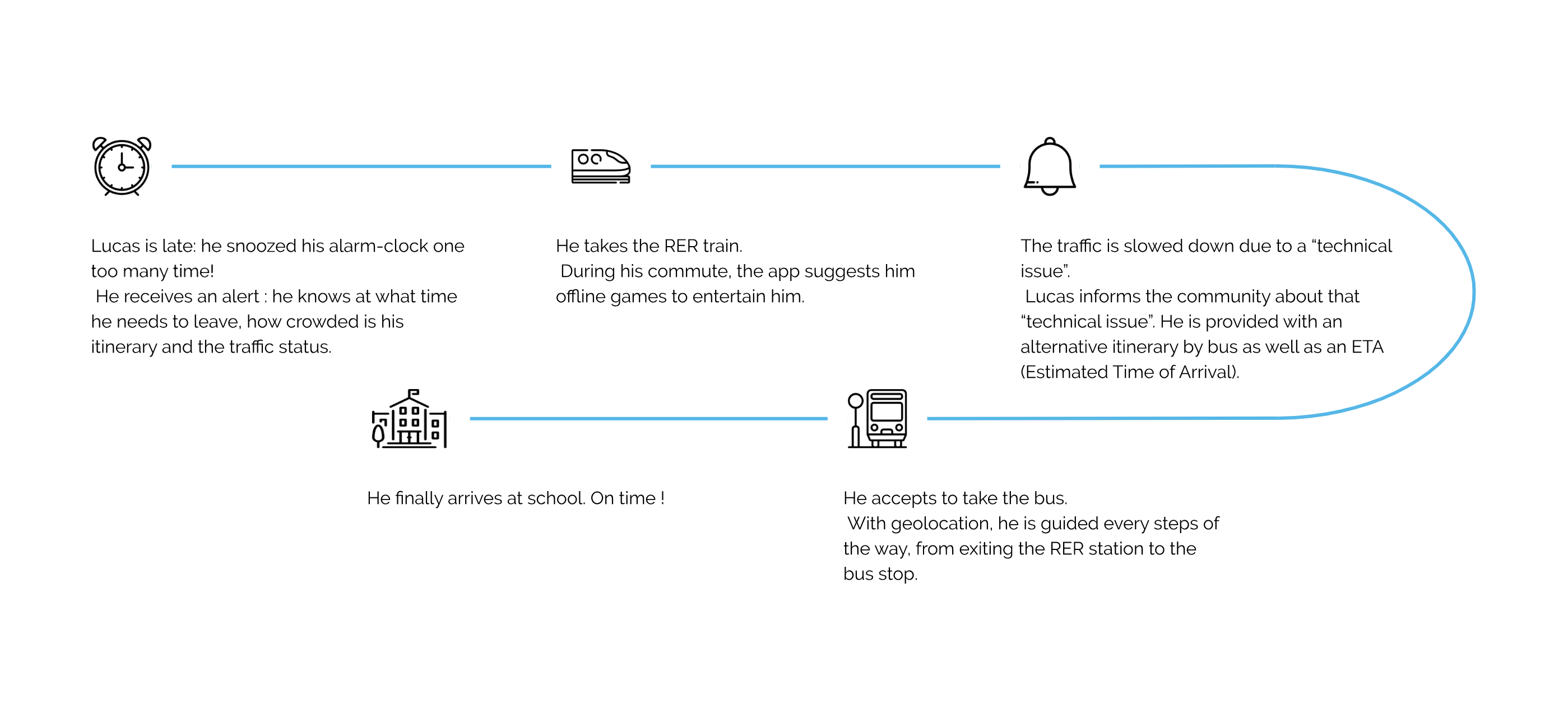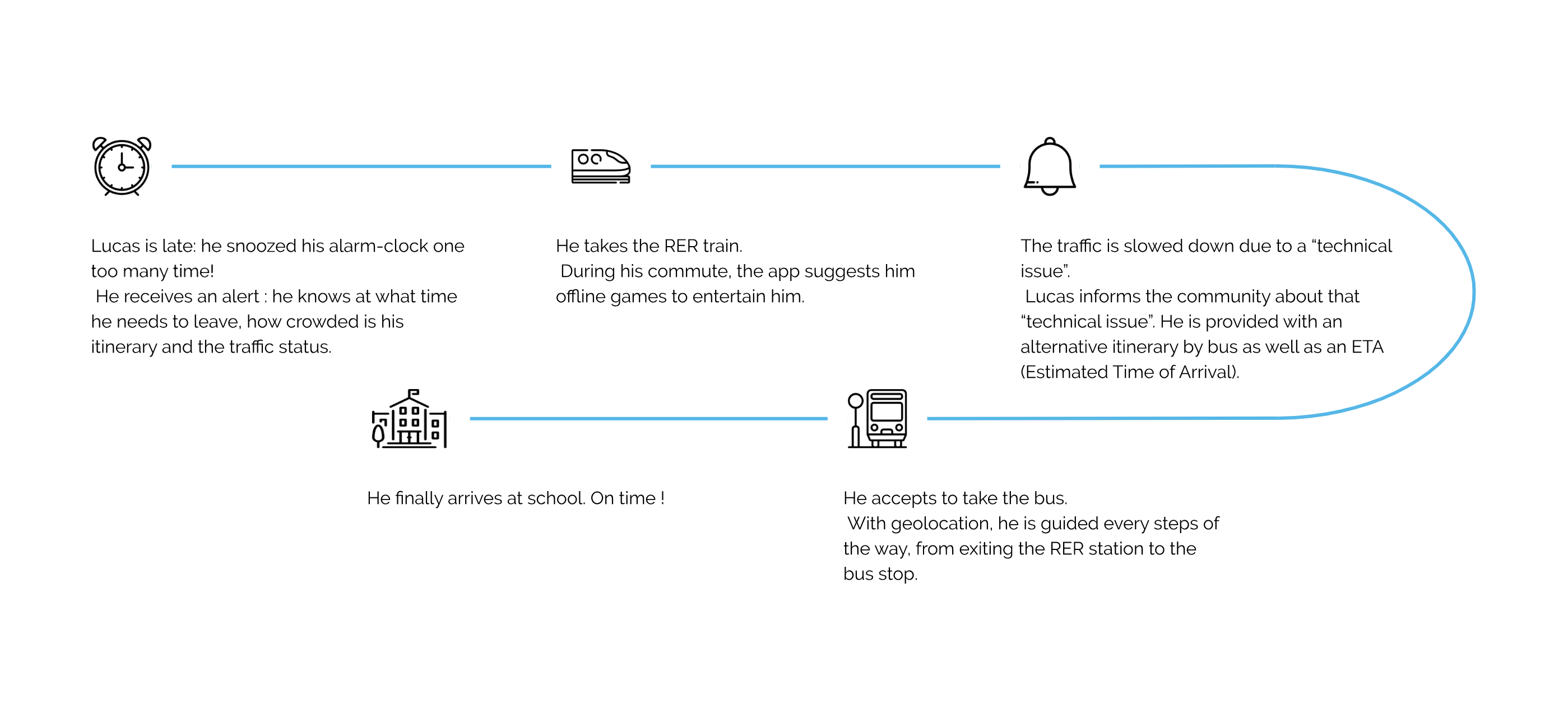 CRAFTING TOGETHER
What are the key messages to communicate? Values are keywords that we need to position in the users' mind when they have access to Vianavigo. It is paramount that these values are in line with IDFM as well as our own ideas. After a post-it brainstorm session, we laid the values for the project, the content and the overall tone. 
User proximity : Guidance. Create intimacy. User friendly. Gamification
Caring Community : Helping one another. Supportive community. Information. Give back. 
Efficiency : Fast. Easy. Reliable. 
Dynamism : Movement. Good mood. Friendly tone. Punchy. Gamefication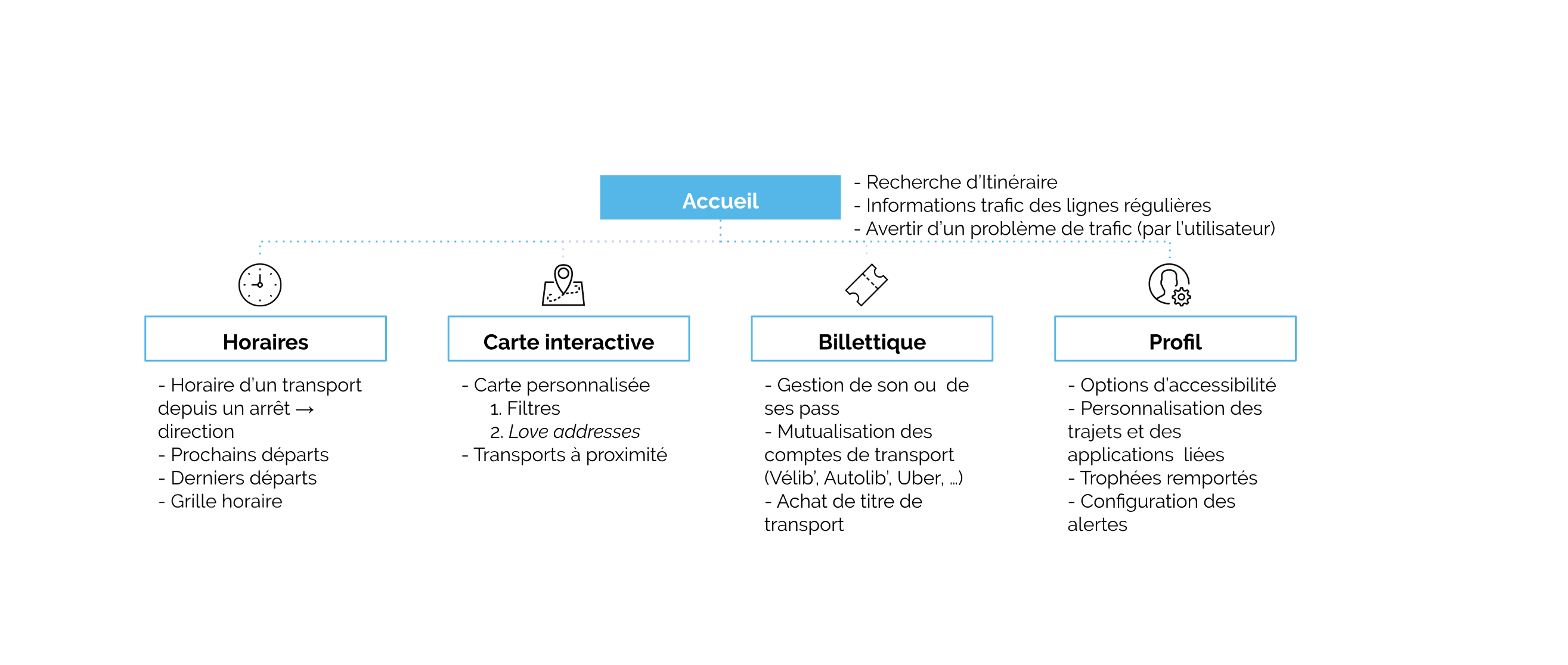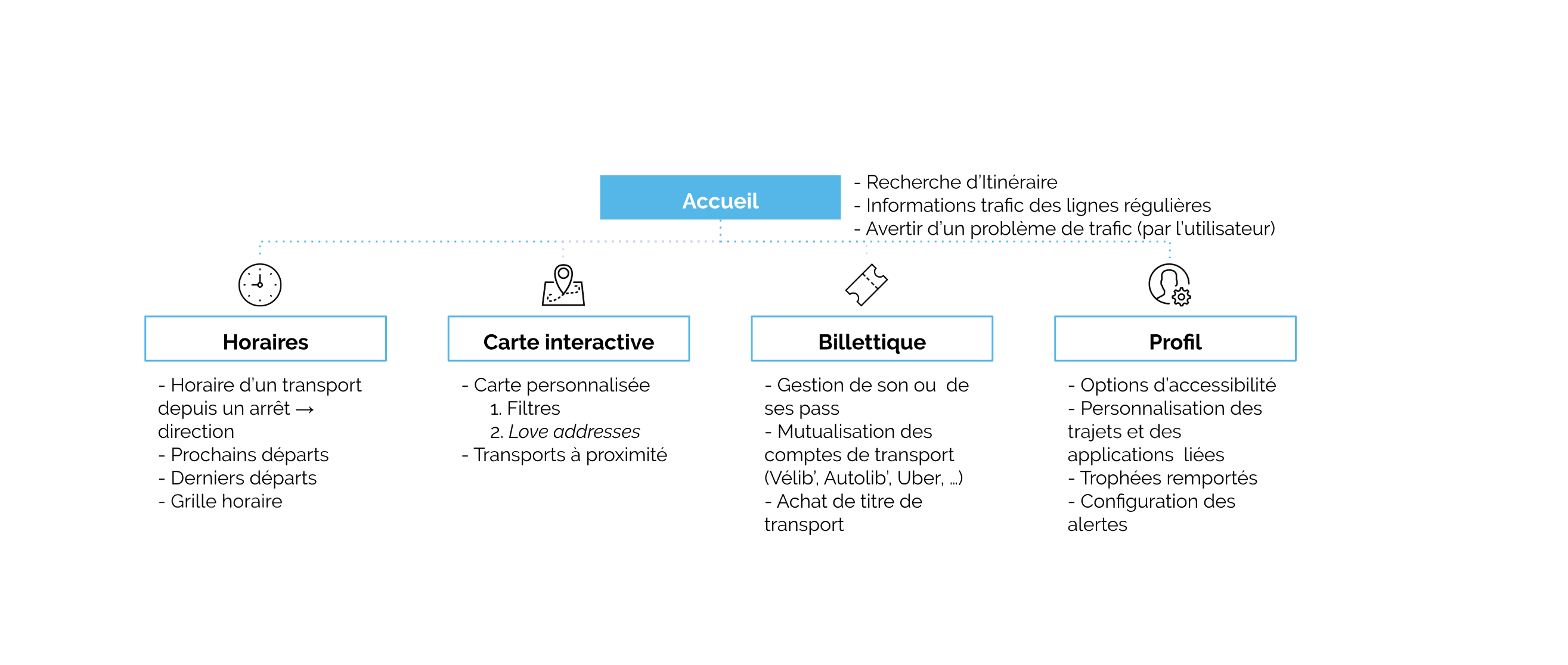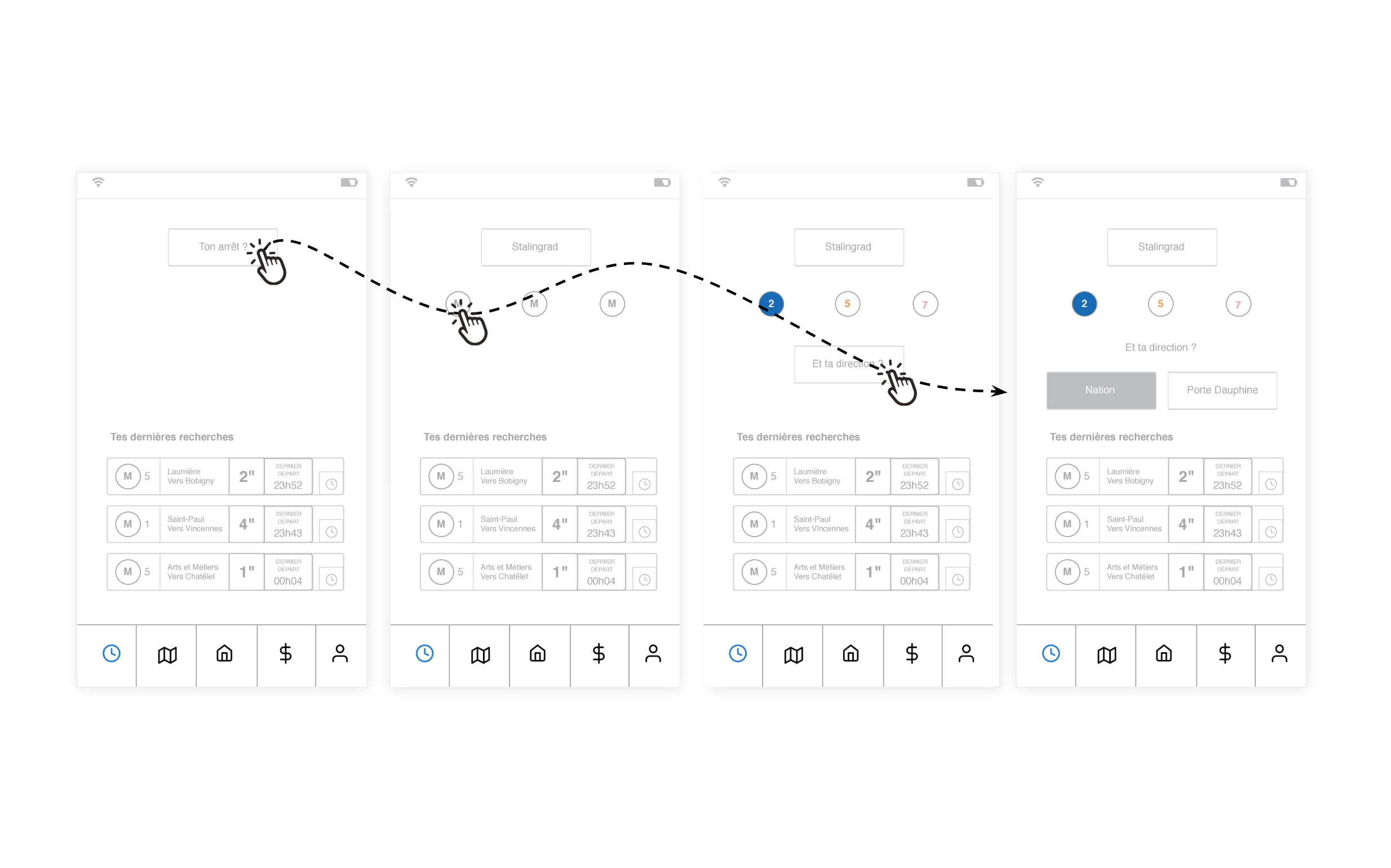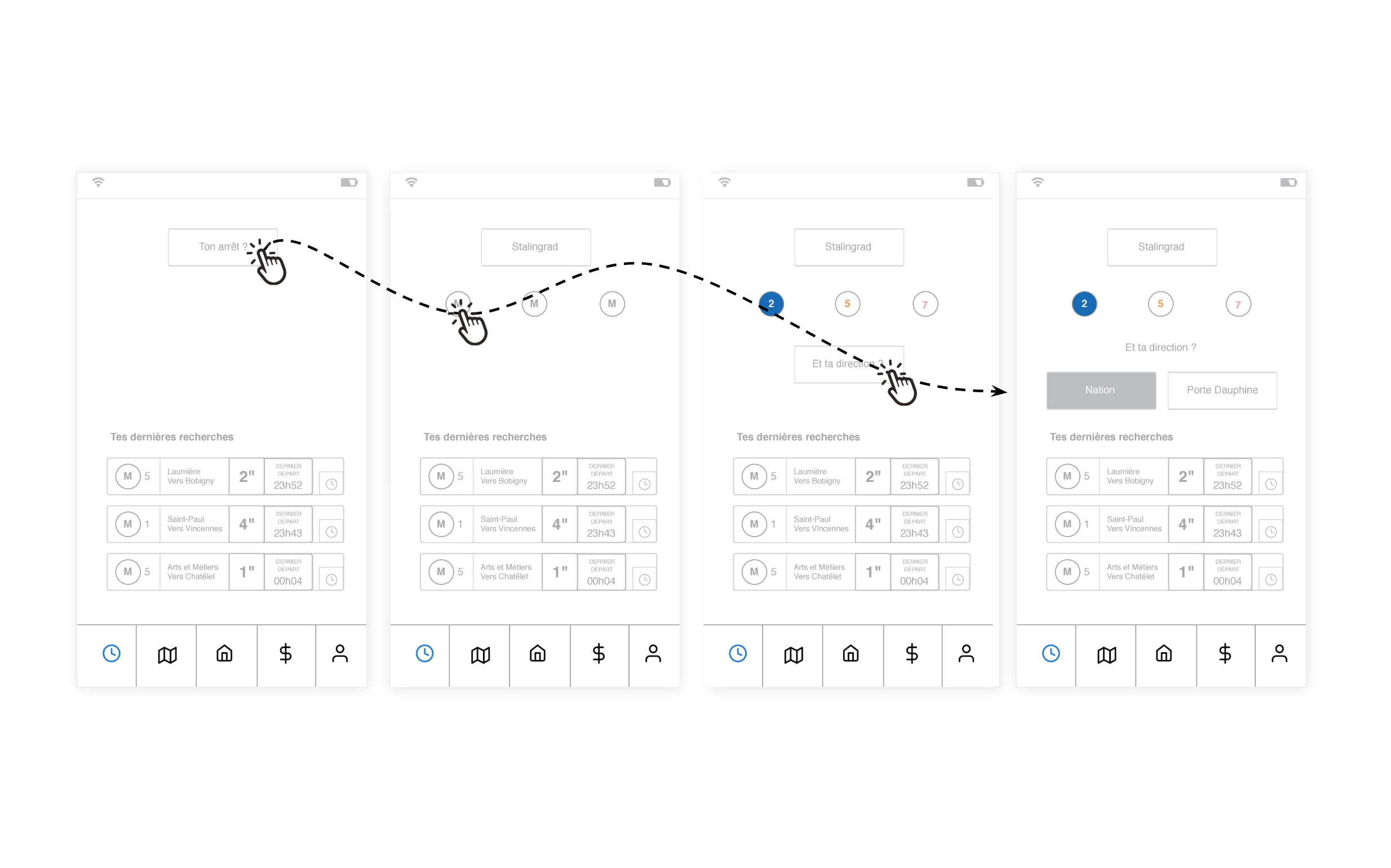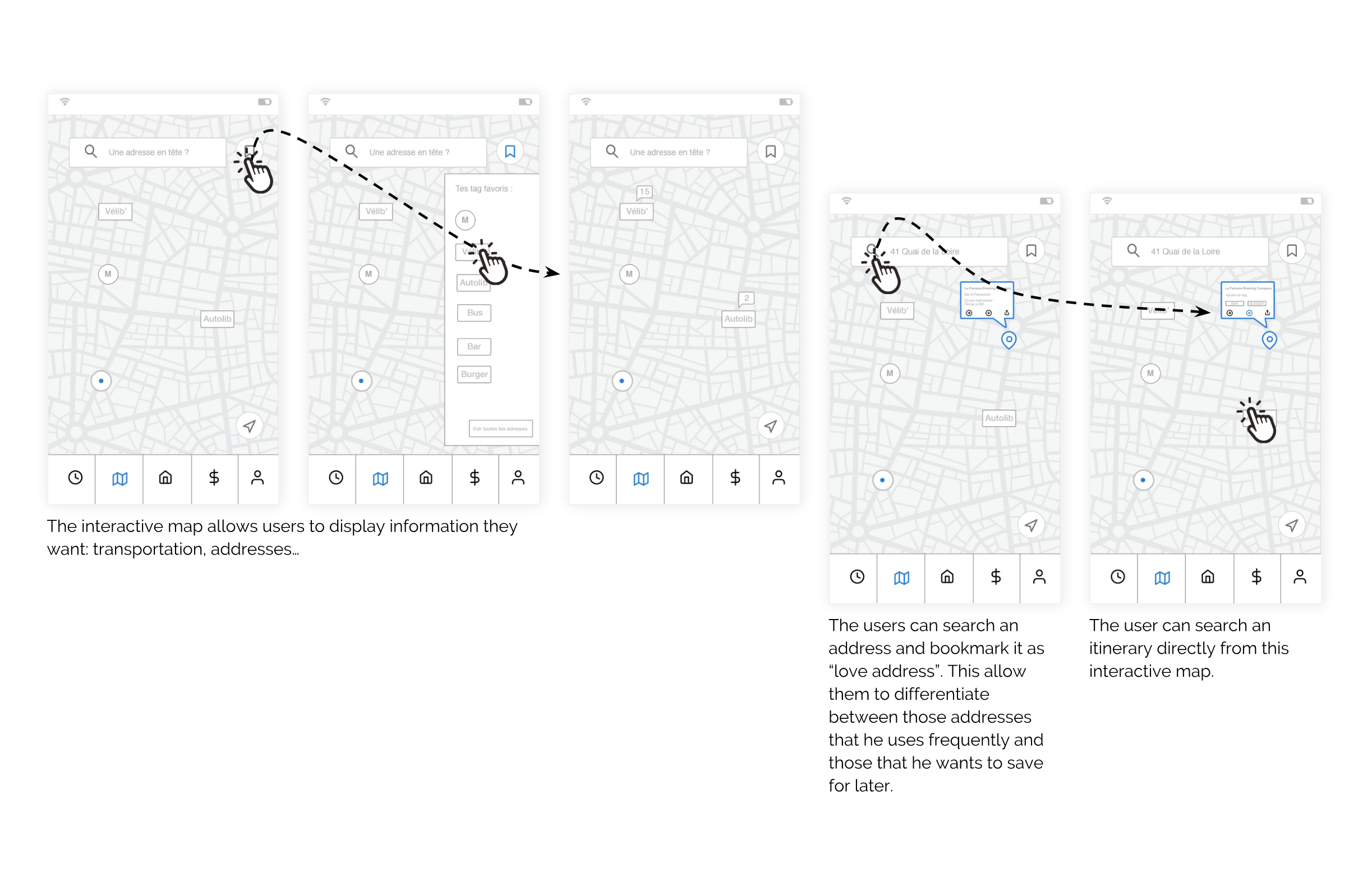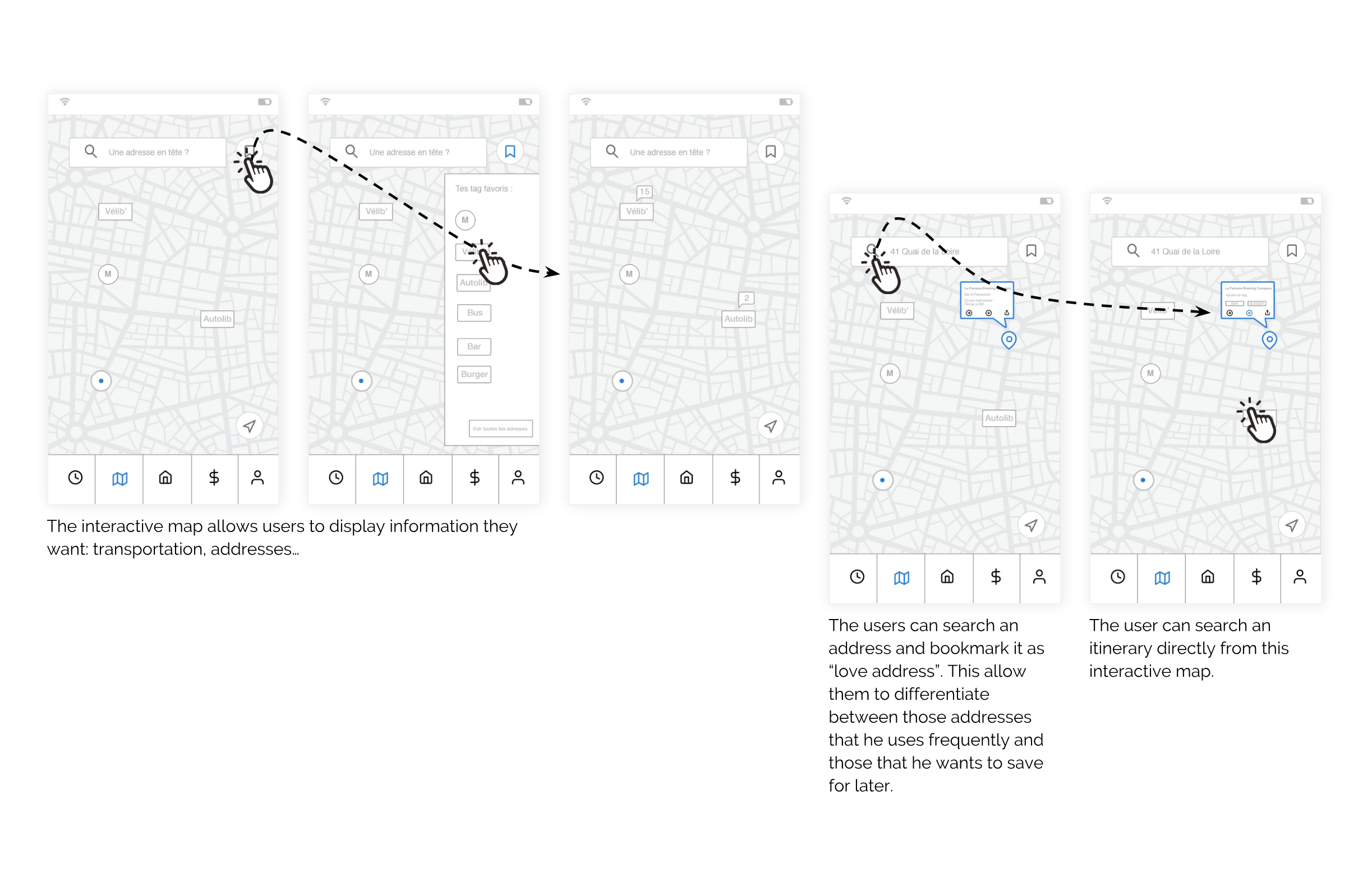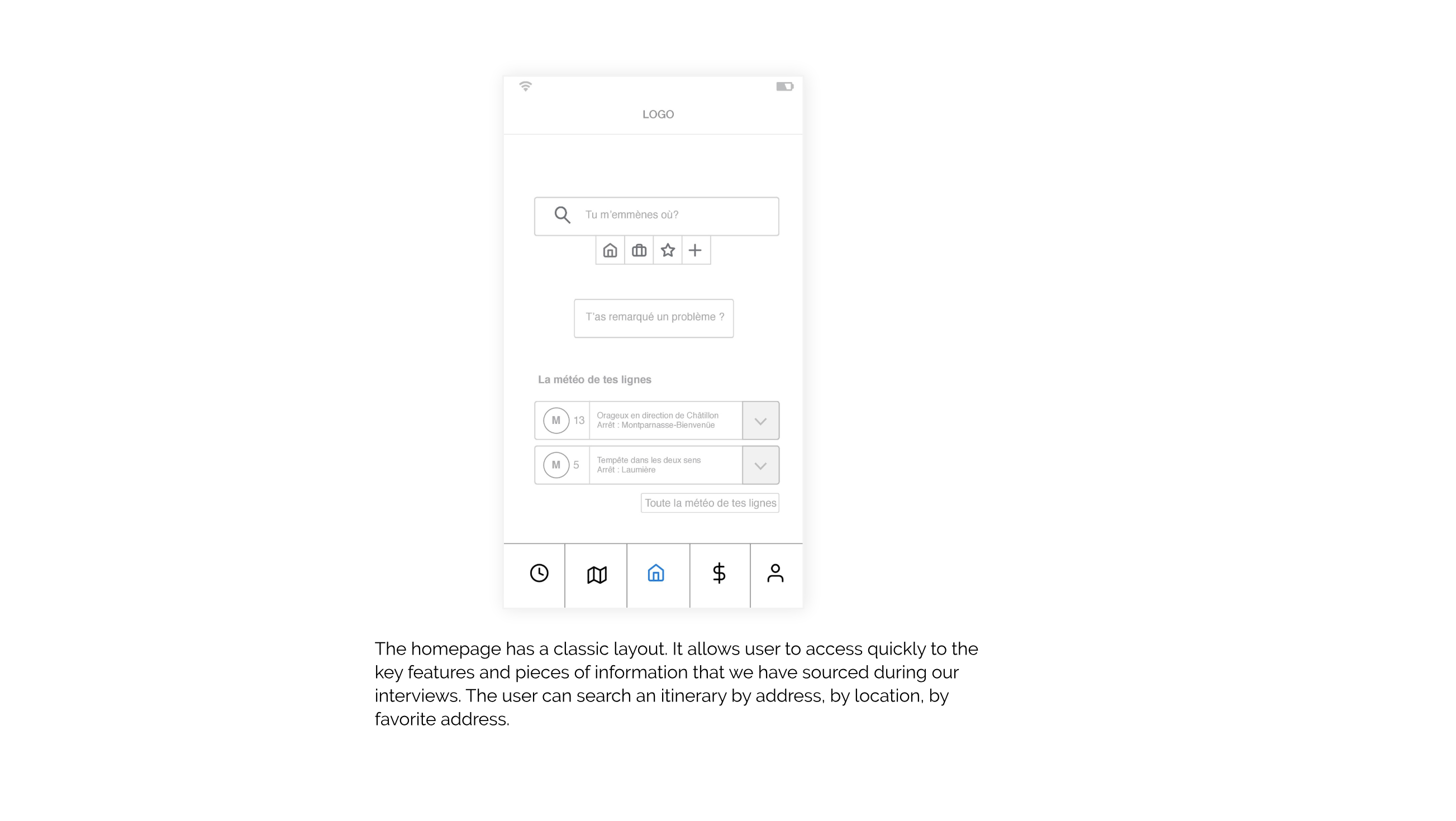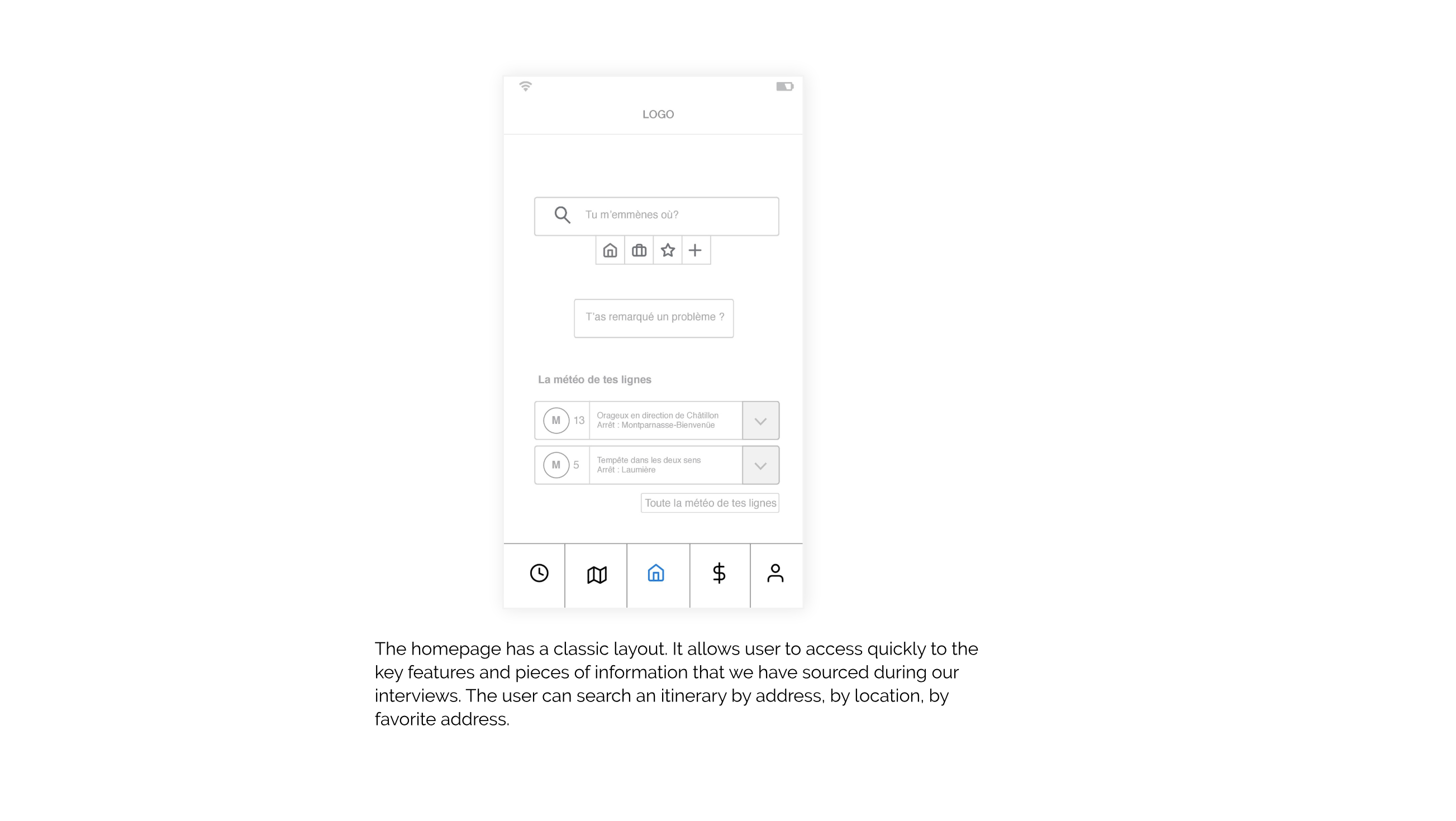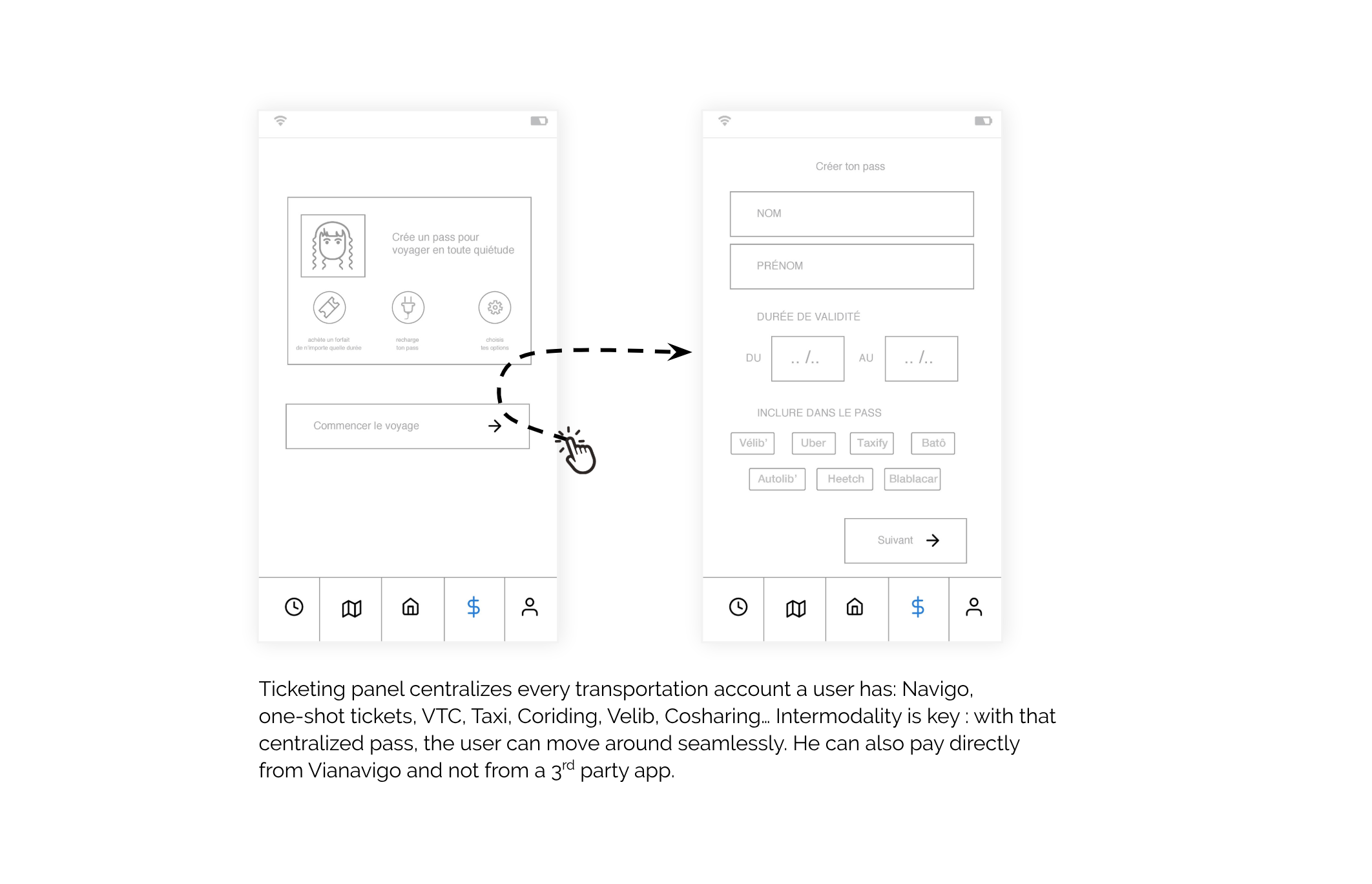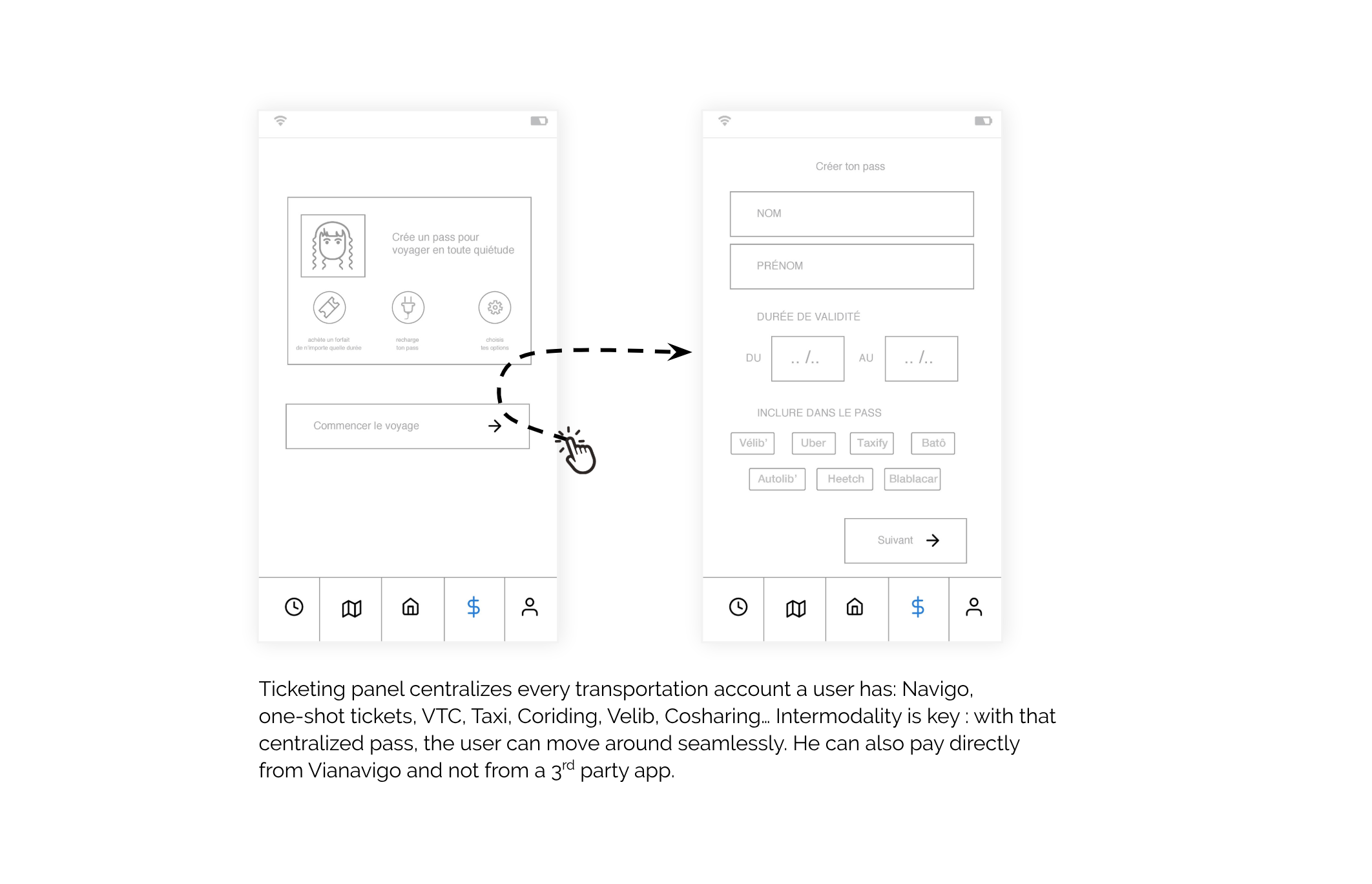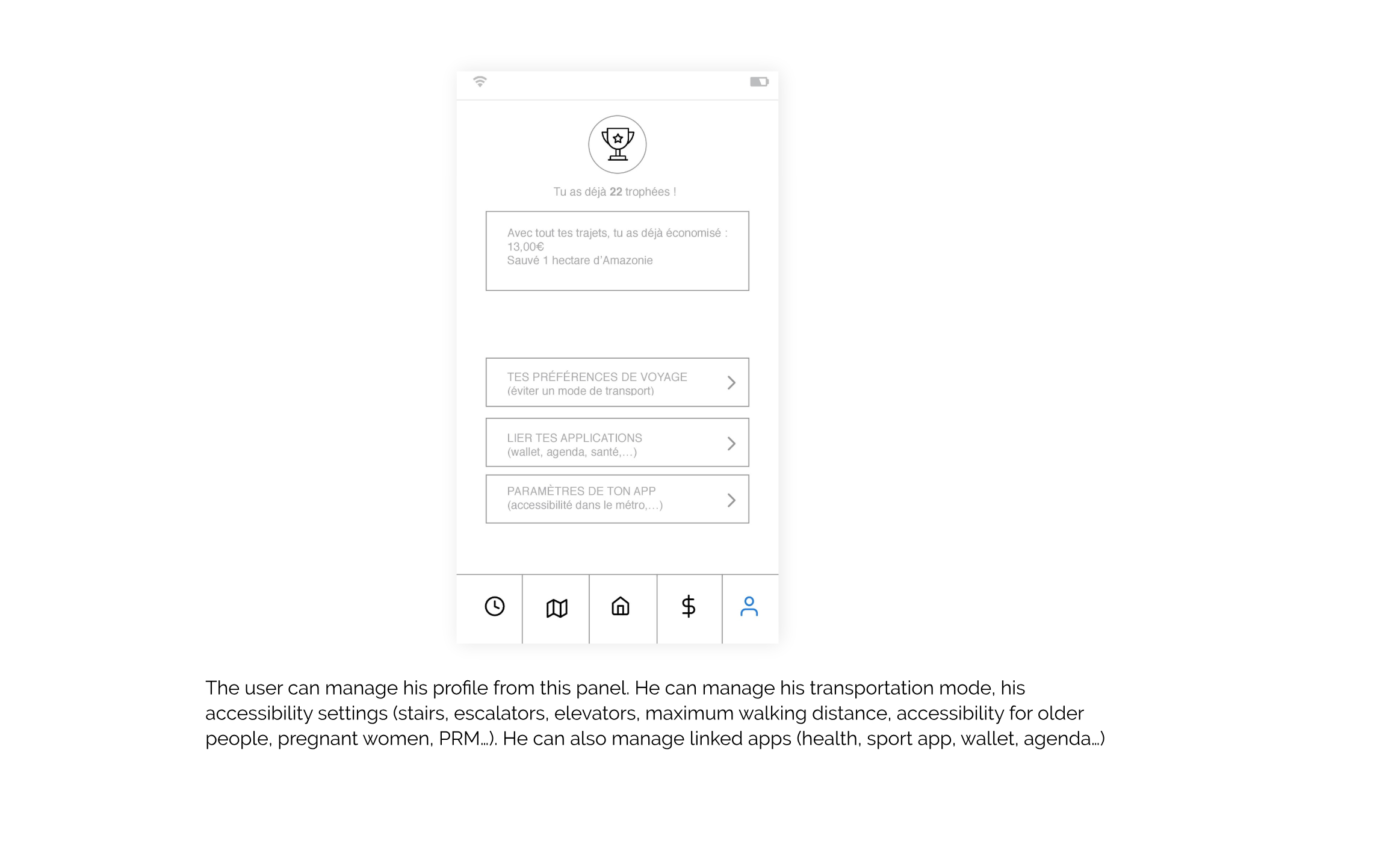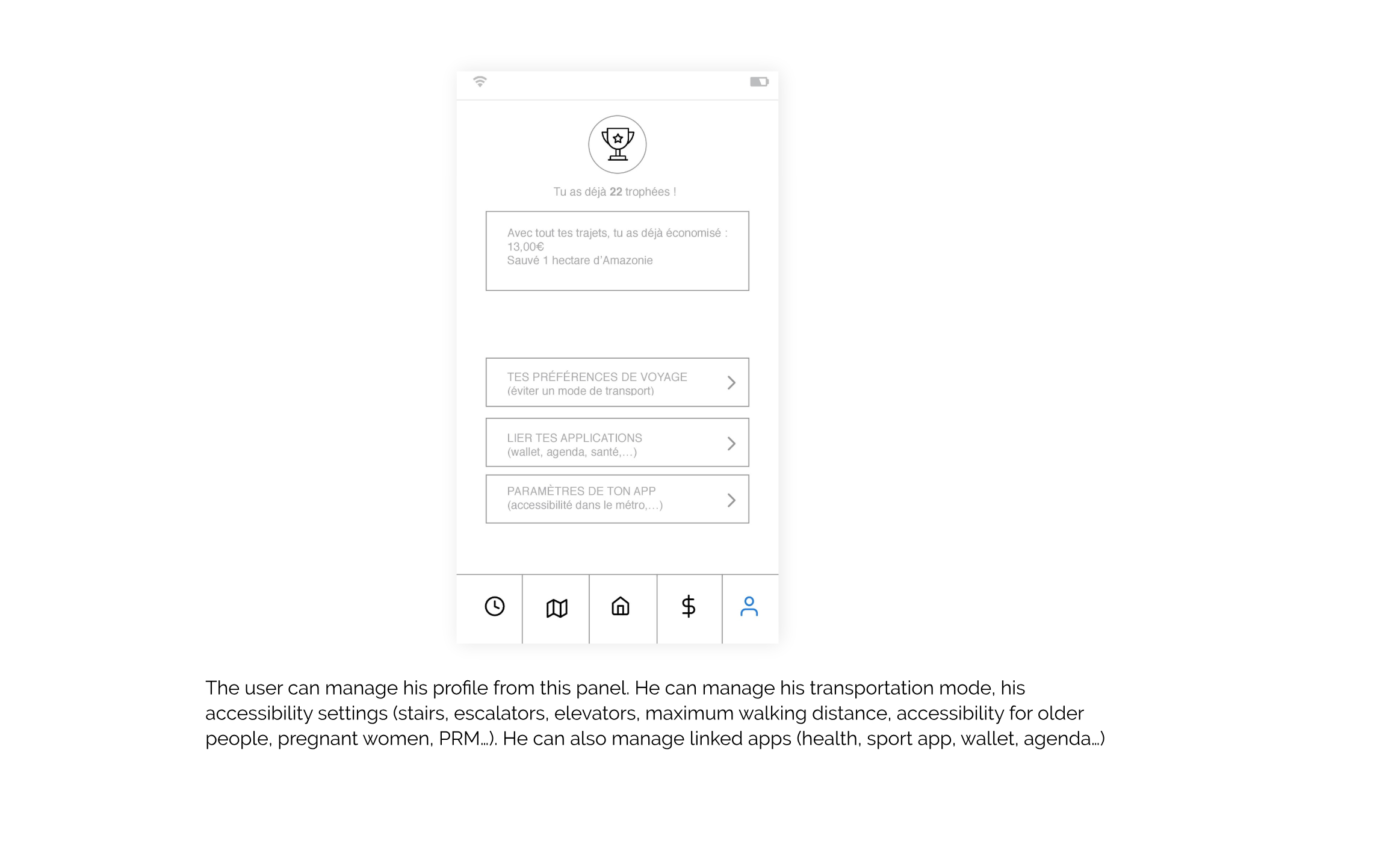 USER TESTING
Before diving into UI, we gathered feedbacks on the wireframes. During these tests, we received one unexpected feedback: the interactive map is more appealing to the testers than the rest of the product. We followed up with with sketching and design rollout.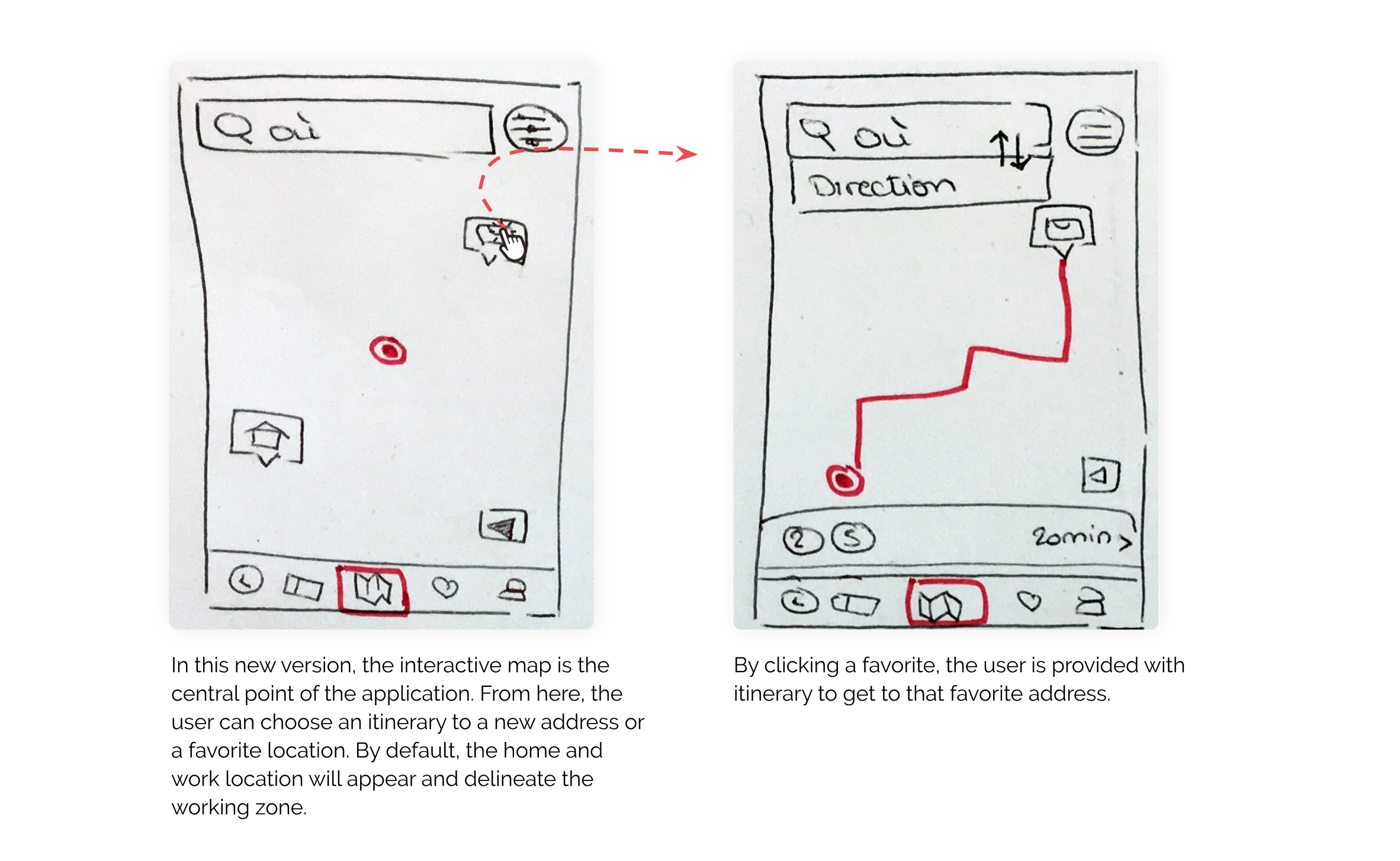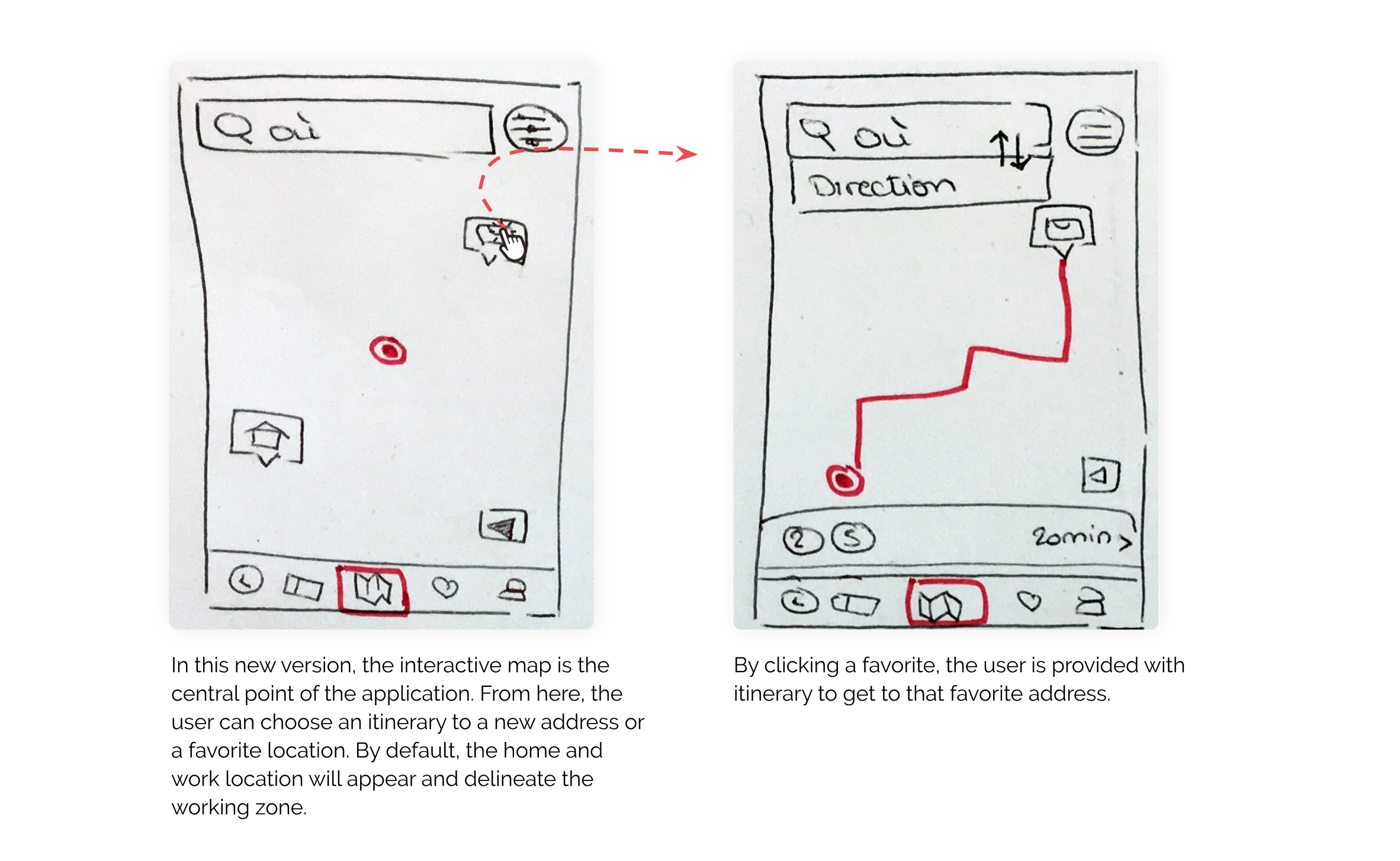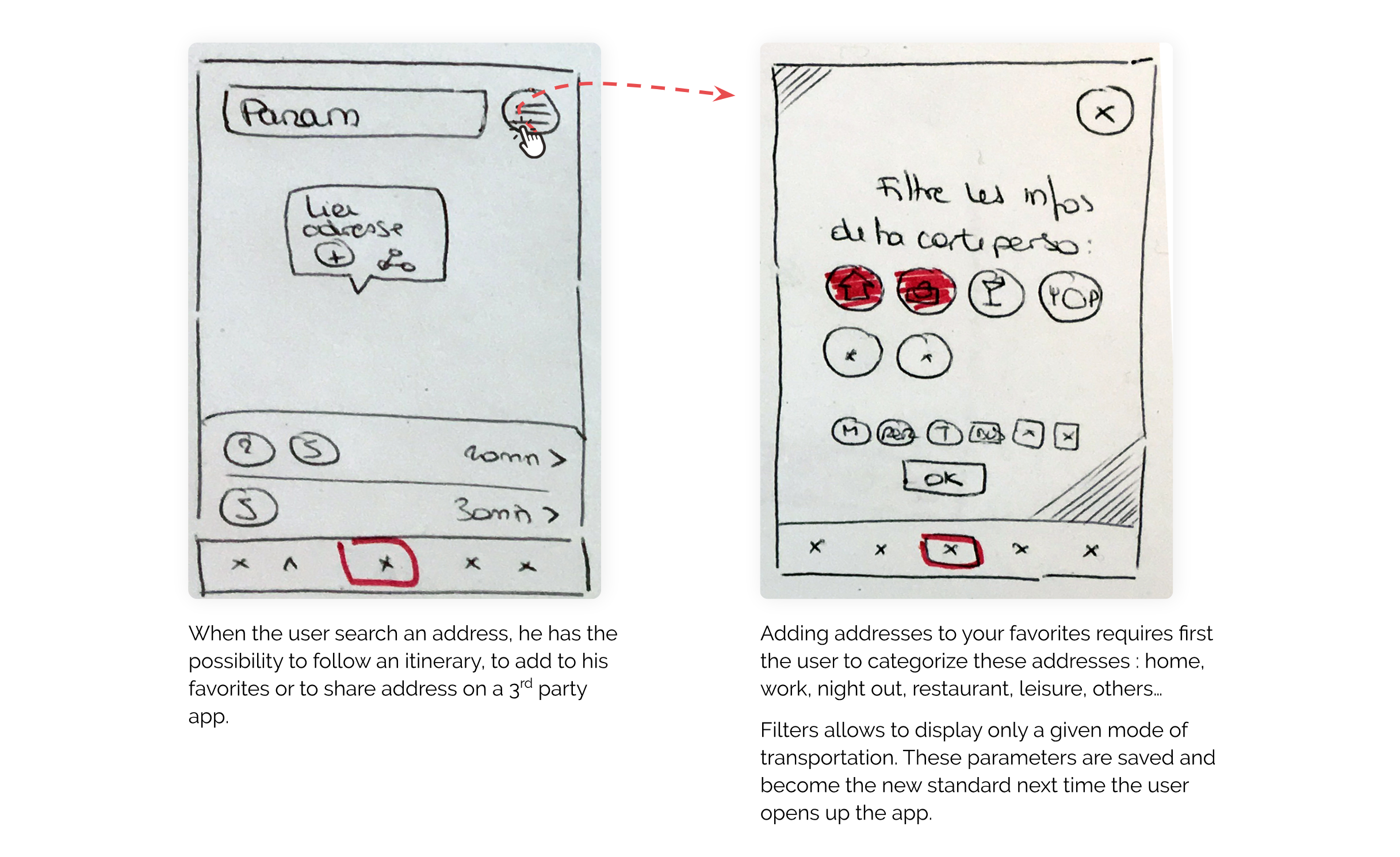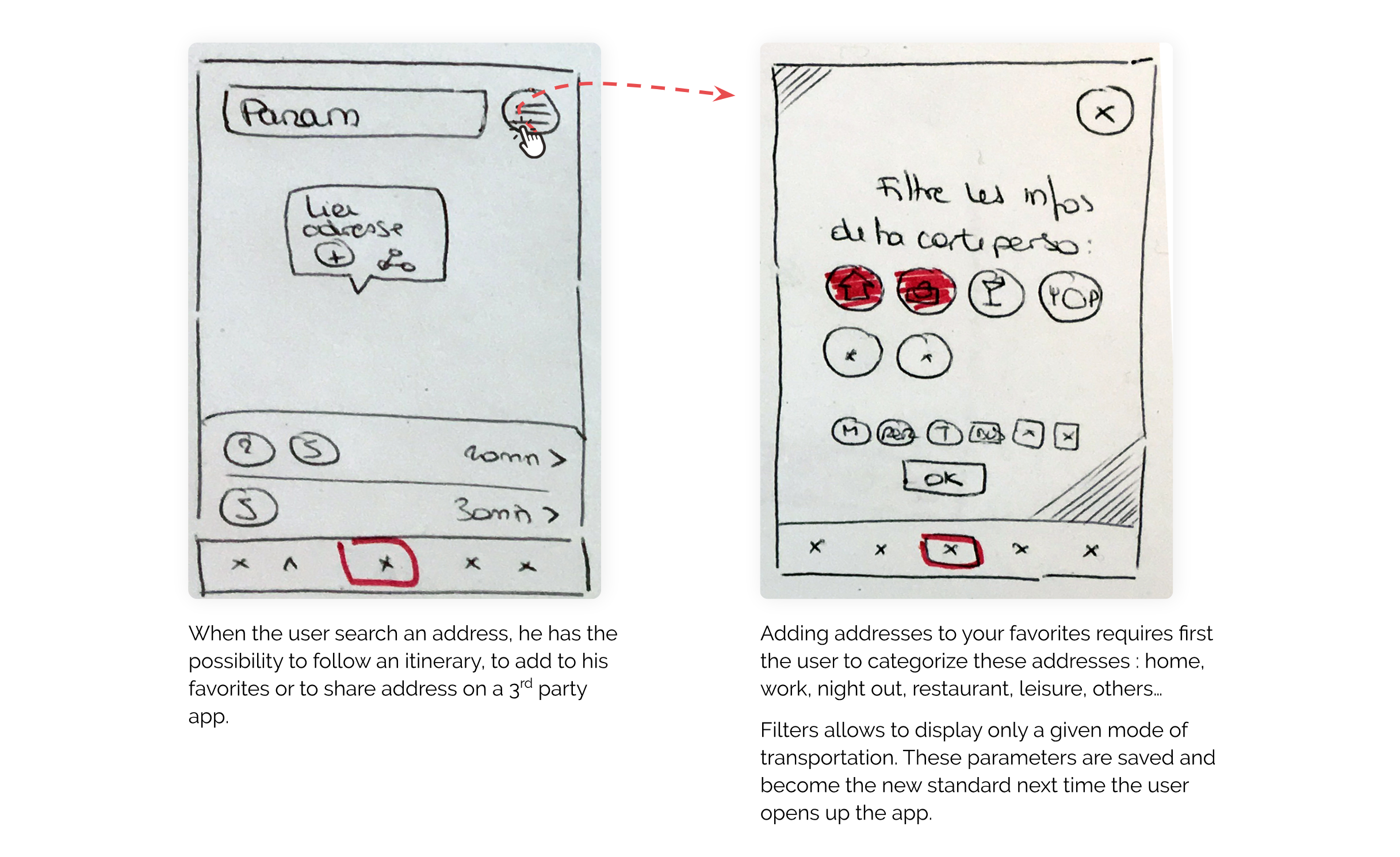 MARIE'S JOURNEY V2
Marie wakes up. She received a notification on her smartphone: "Traffic is slowed down on your subway line". The application provides an alternative "It's sunny outside : ride a bike to work !"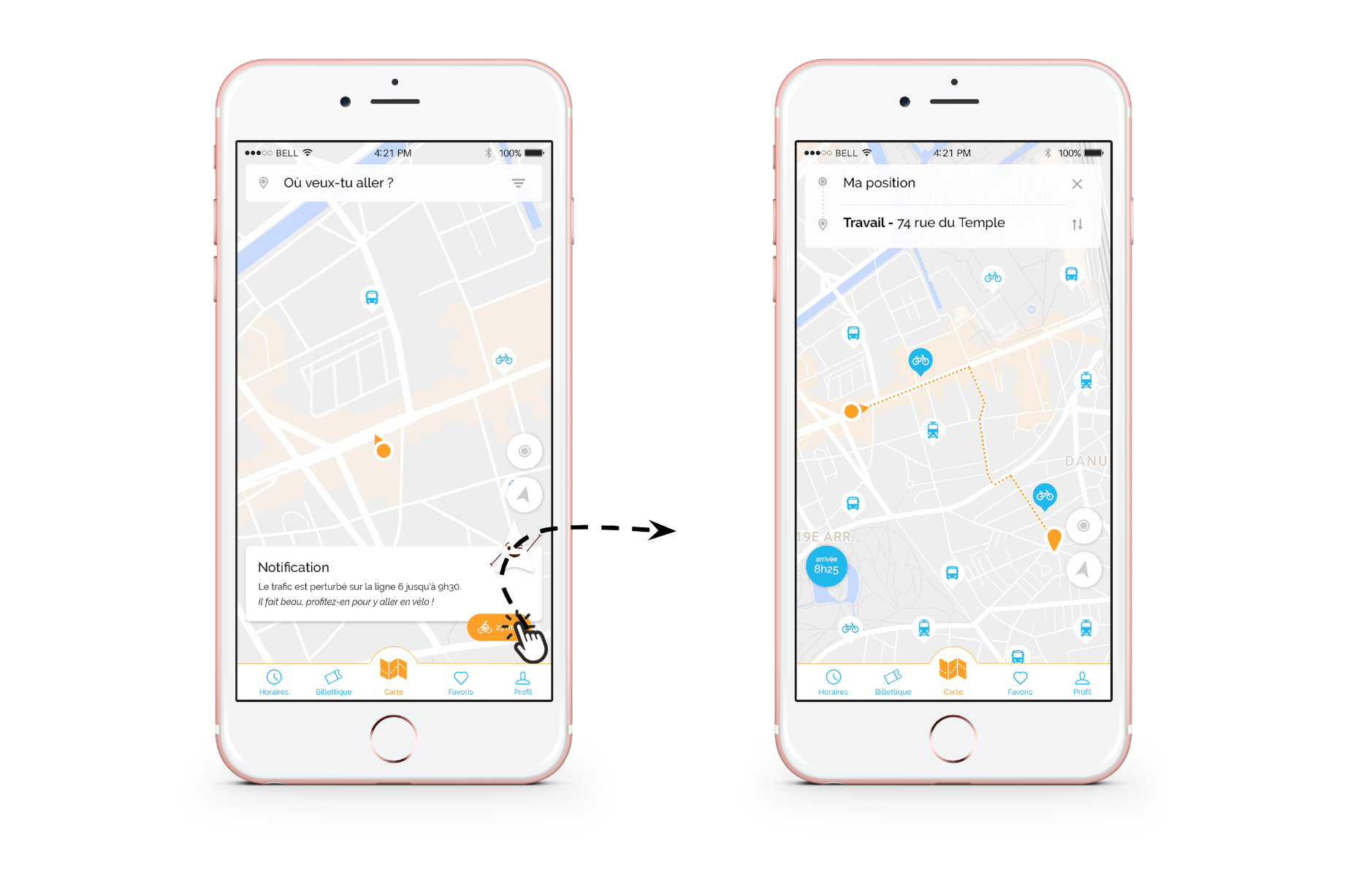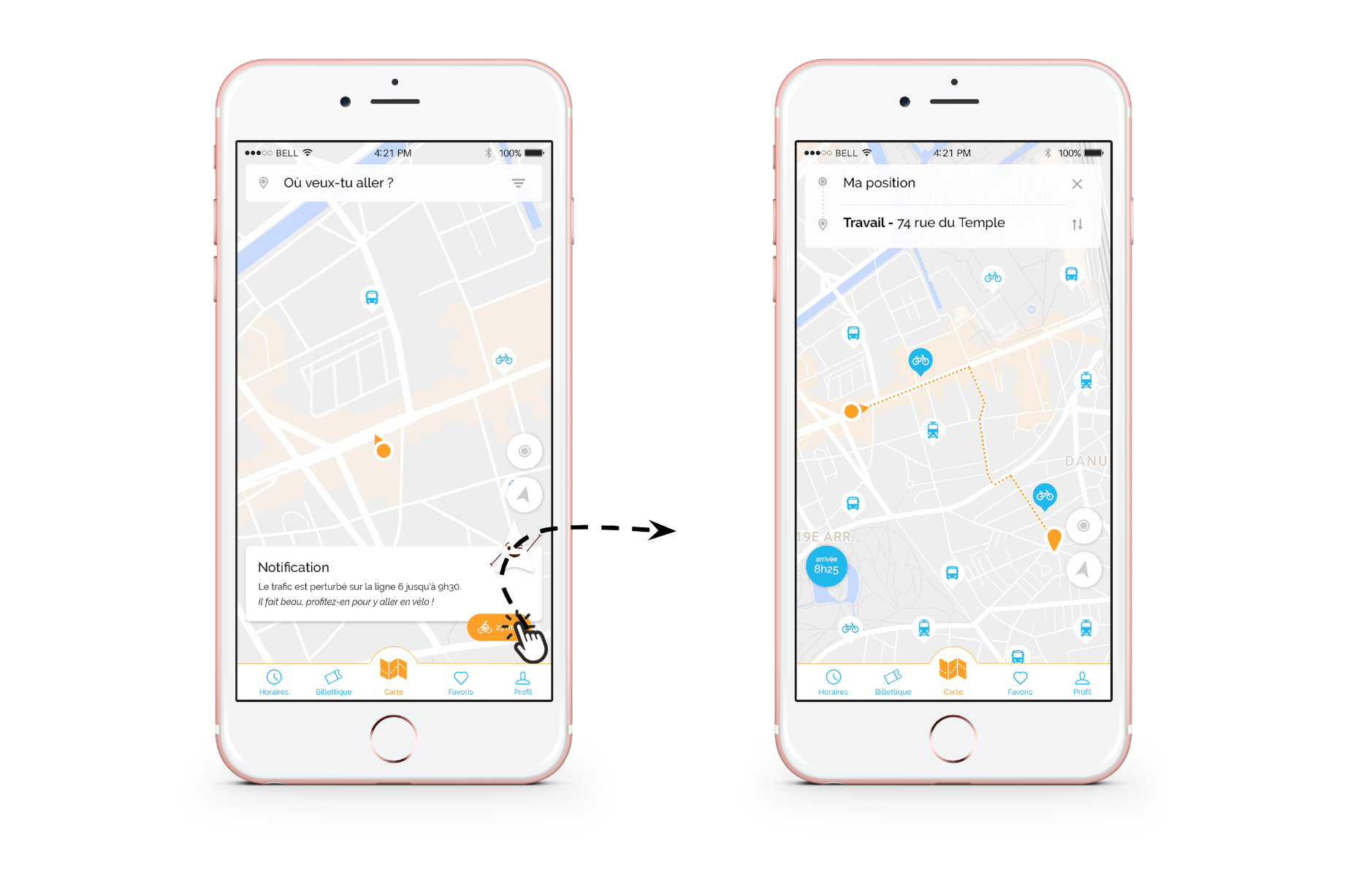 During the day, a friend invites her to take a drink tonight.
She starts Vianavigo, enters her destination by typing the name of the venue in the research bar. The app suggests the address of the bar as well as an itinerary.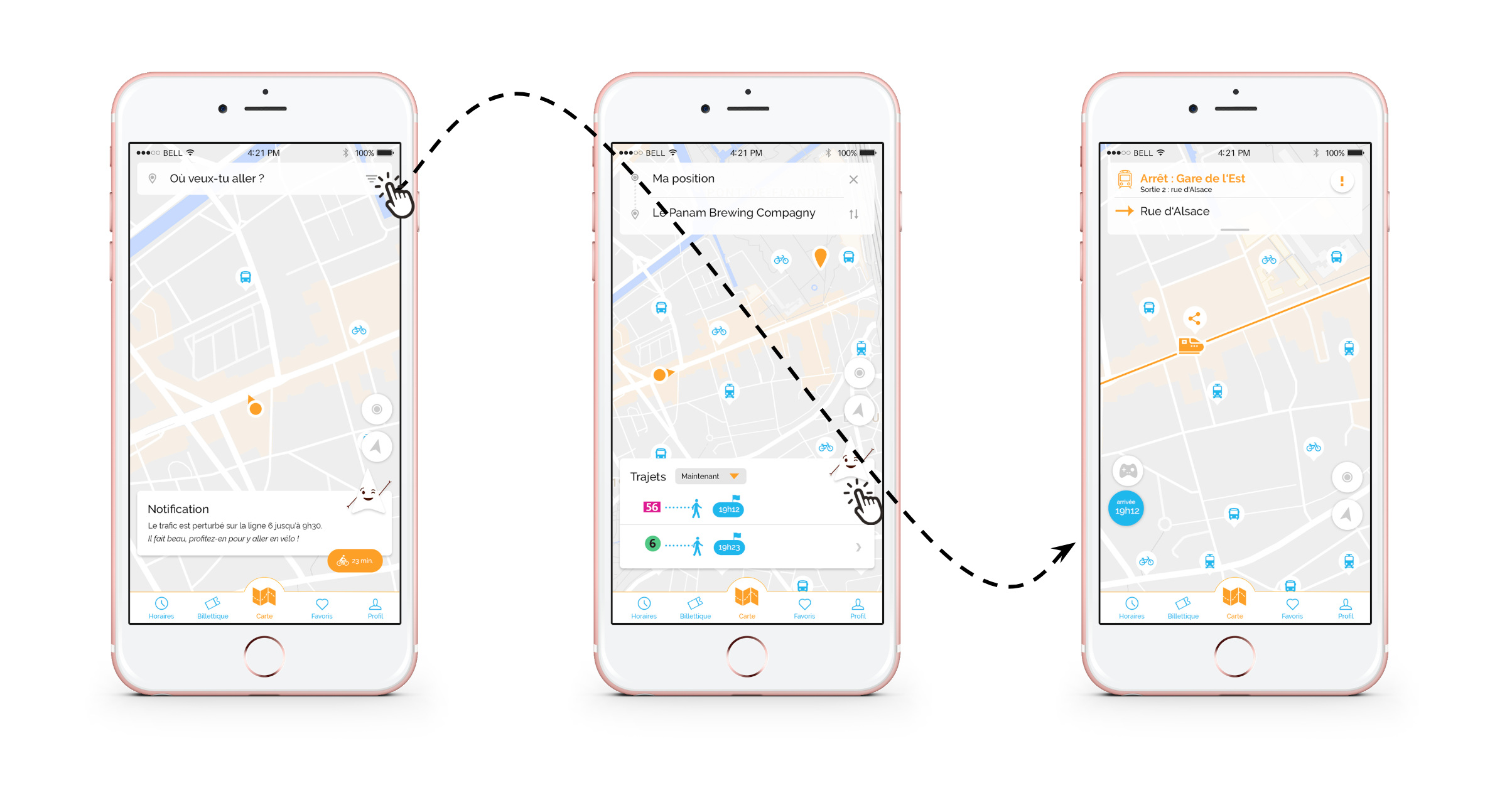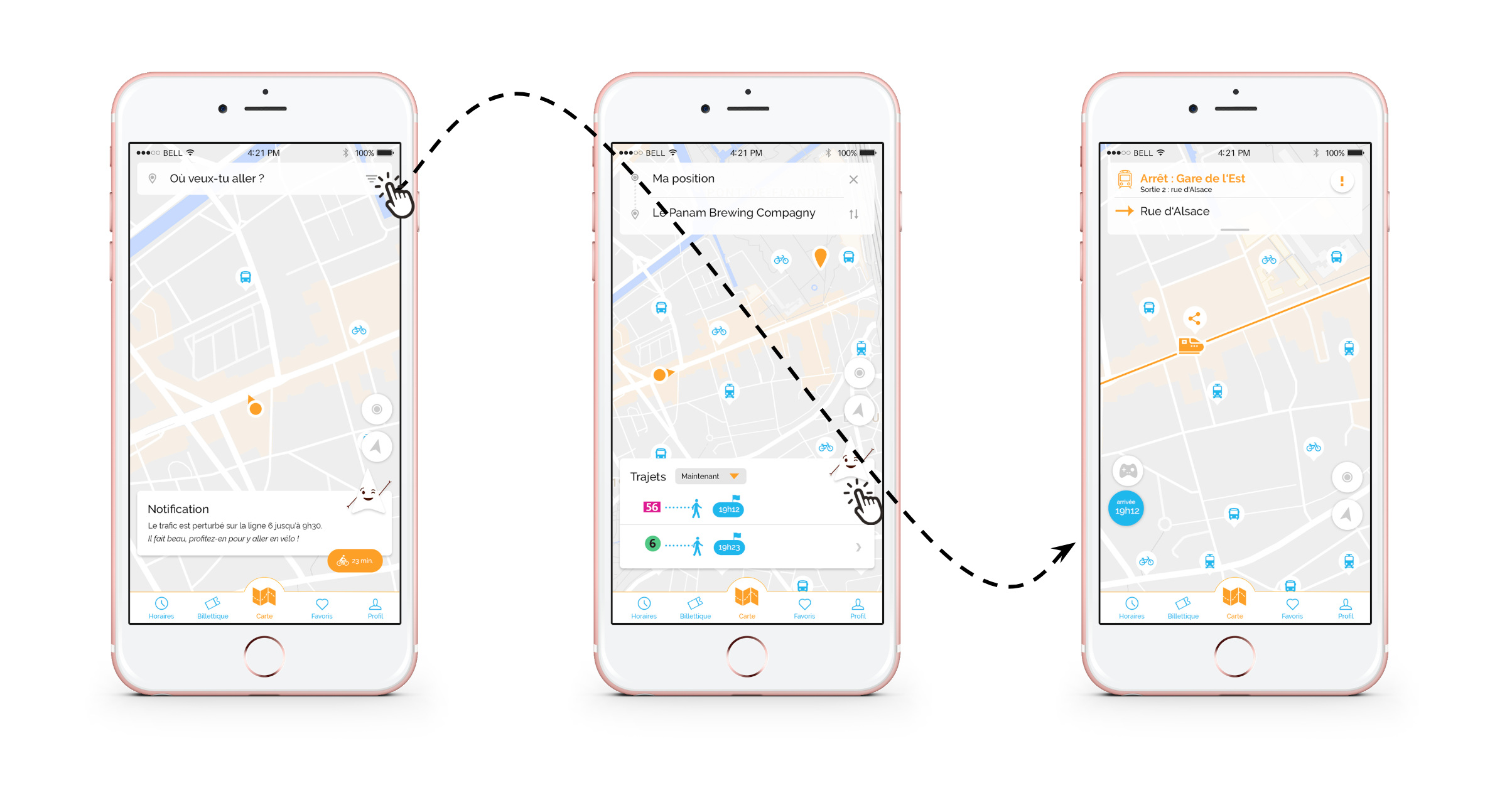 While they are drinking, she receives a reminder that the last metro to her place leaves in one hour. She opens up the app: she is provided with alternatives in case she misses the last subway.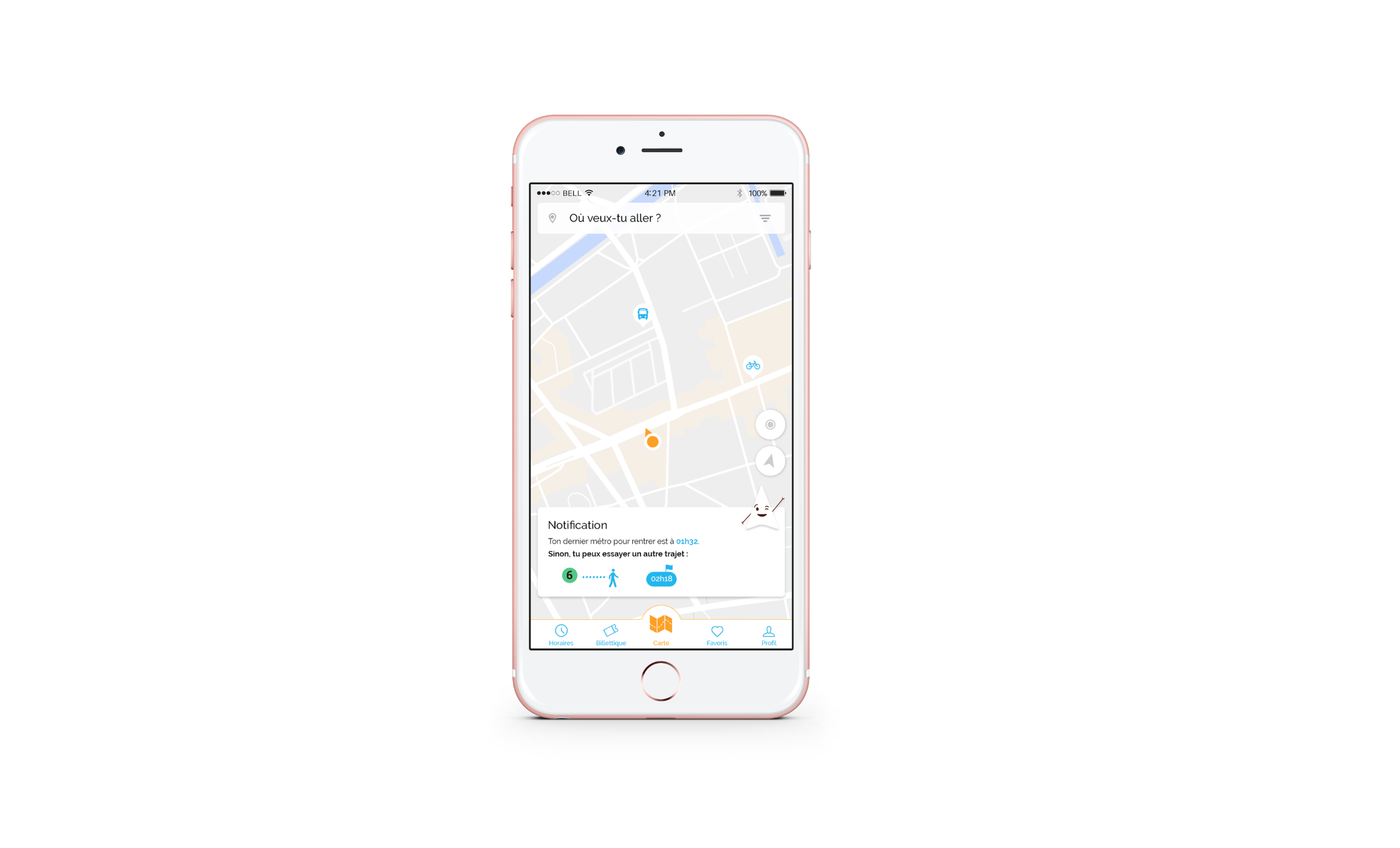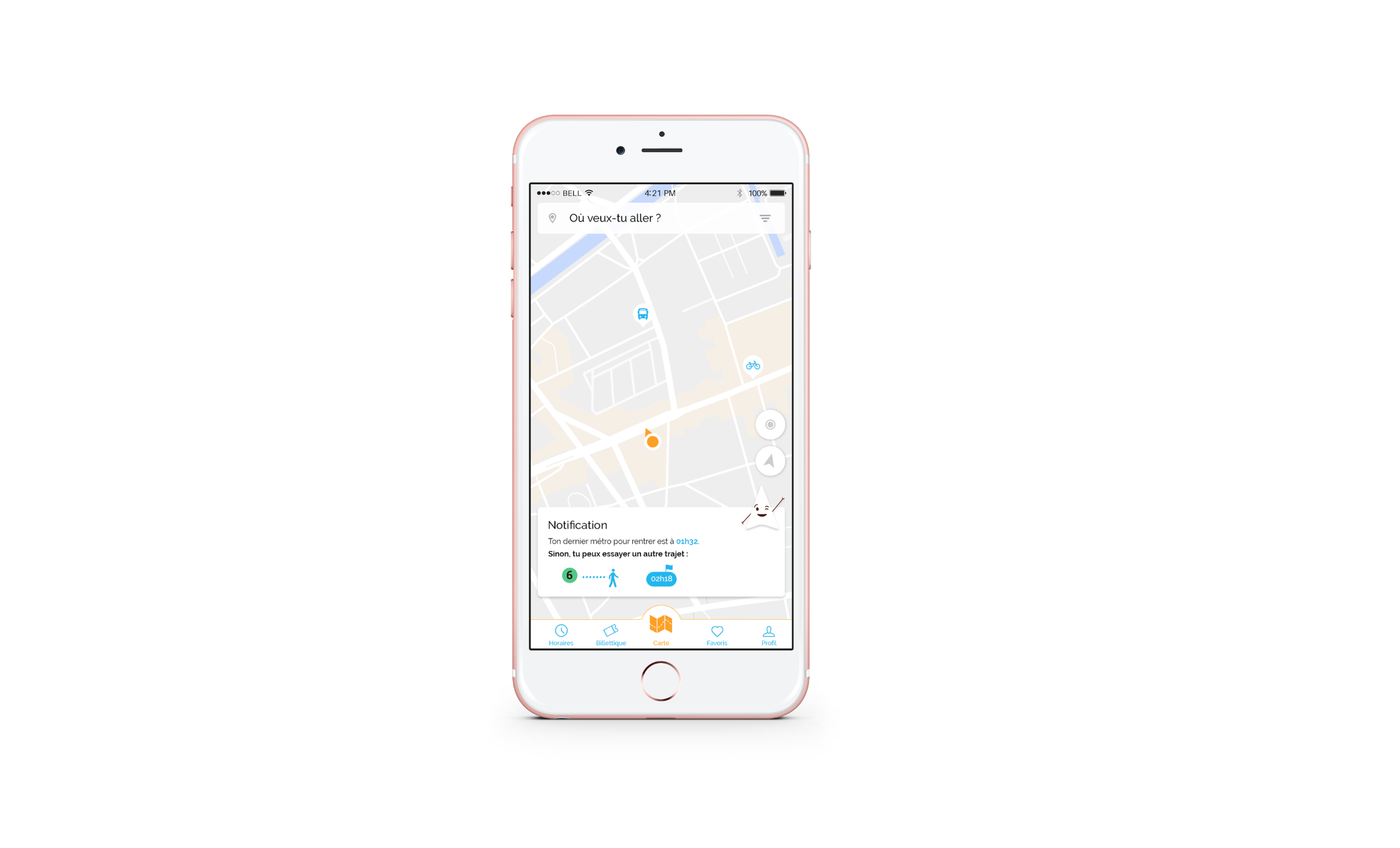 LUCAS' JOURNEY V2
Lucas is late: he snoozed his alarm-clock one too many time!
He receives an alert : he knows at what time he needs to leave, how crowded is his itinerary and the traffic status.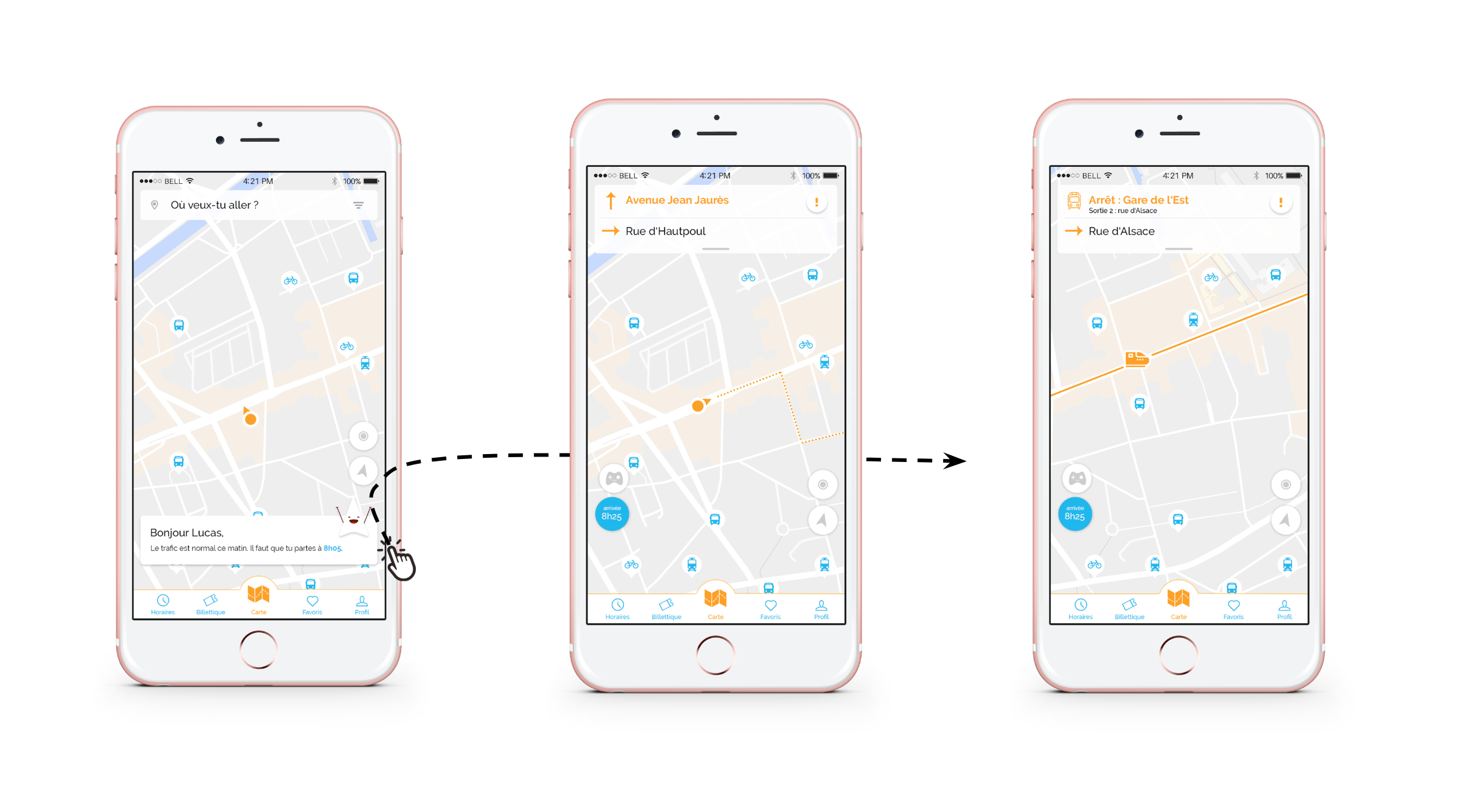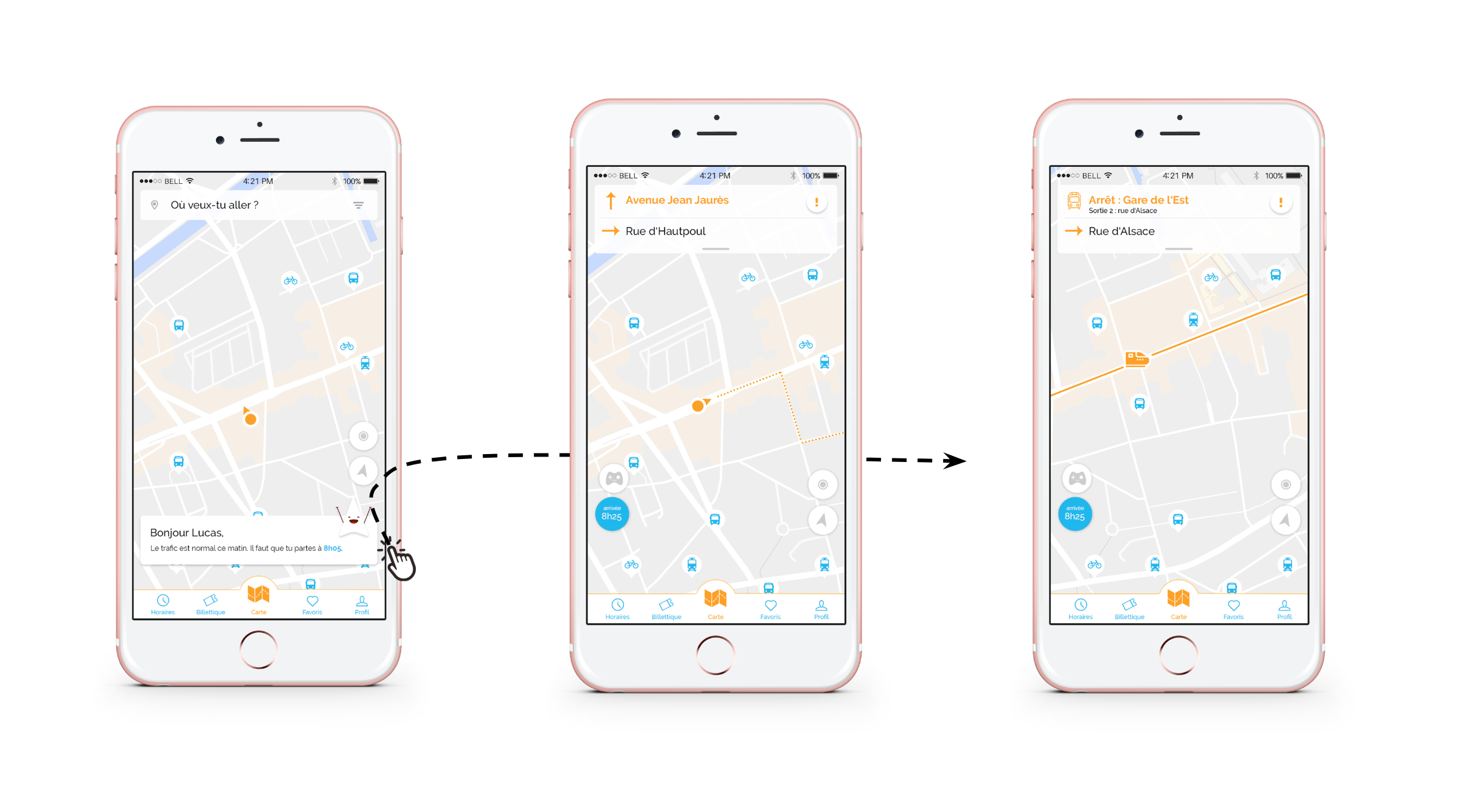 The traffic is slowed down due to a "technical issue".
Lucas informs the community about that "technical issue". He is provided with an alternative itinerary by bus as well as an ETA (Estimated Time of Arrival).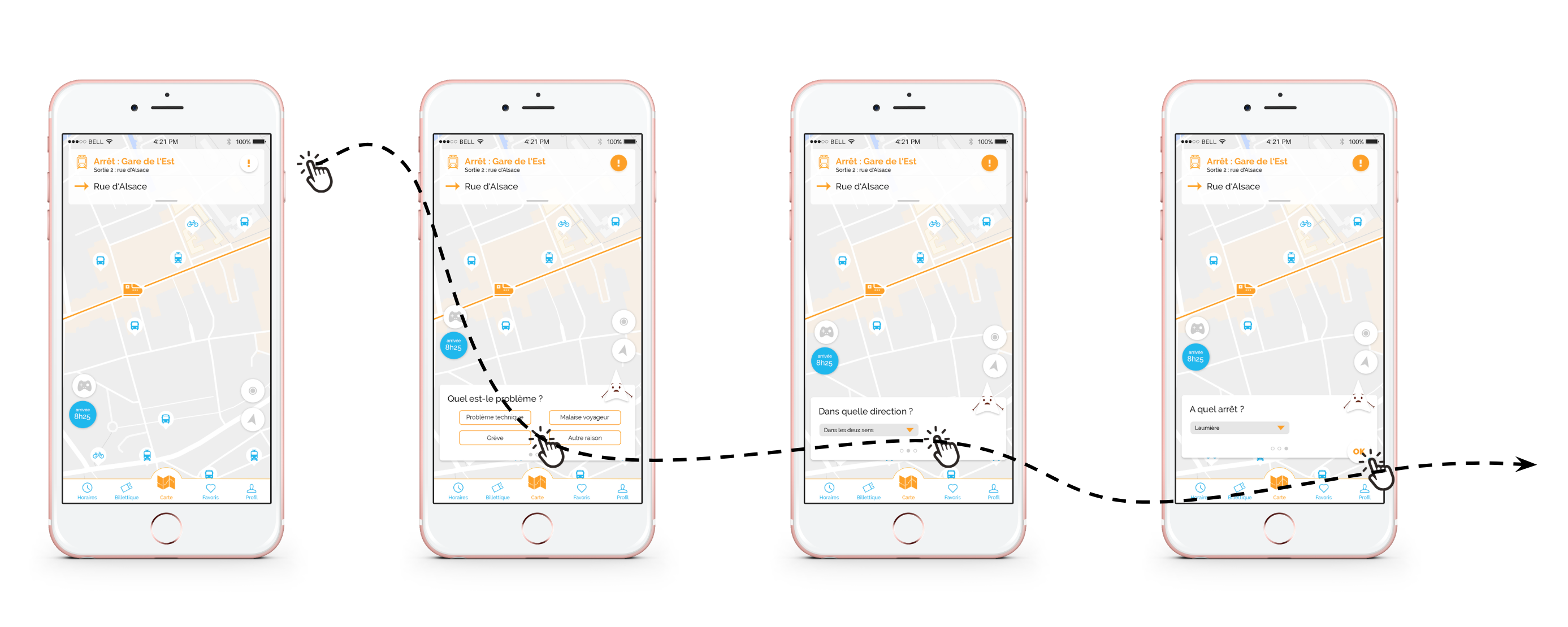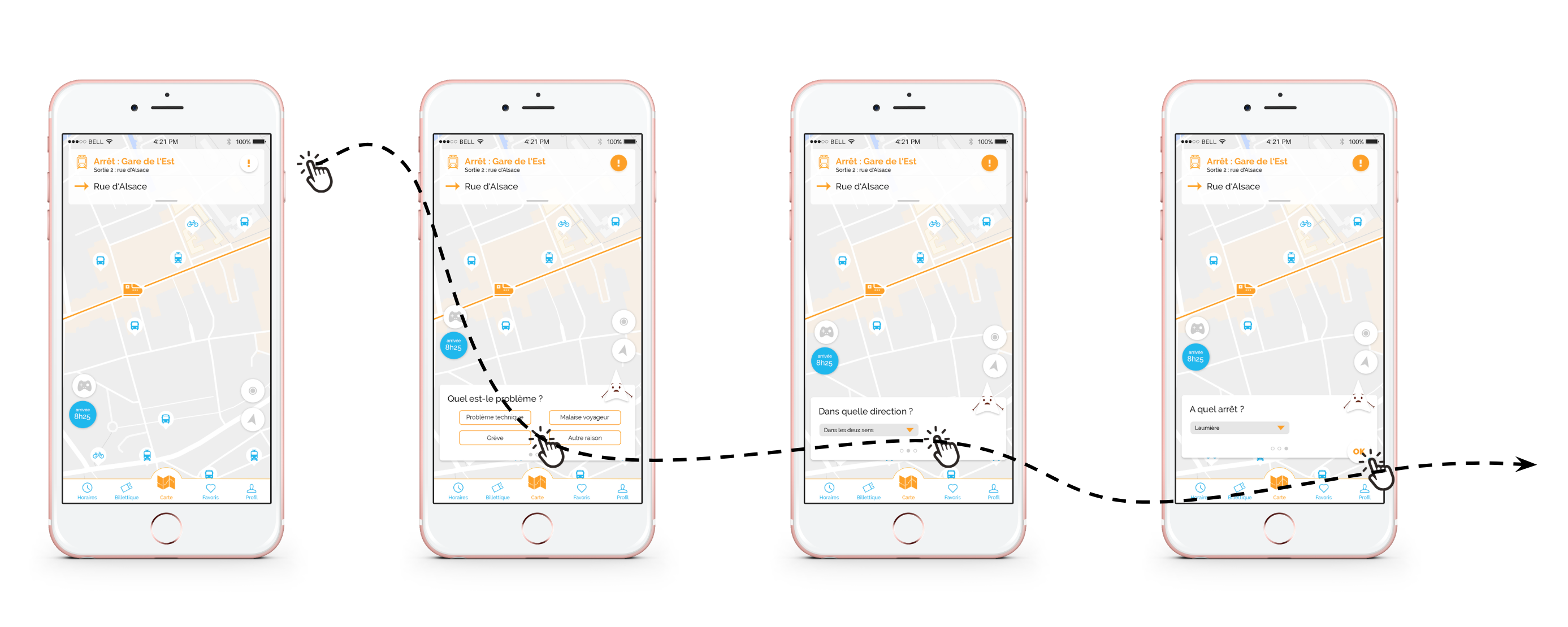 He accepts to take the bus.
With geolocation, he is guided every steps of the way, from exiting the RER station to the bus stop.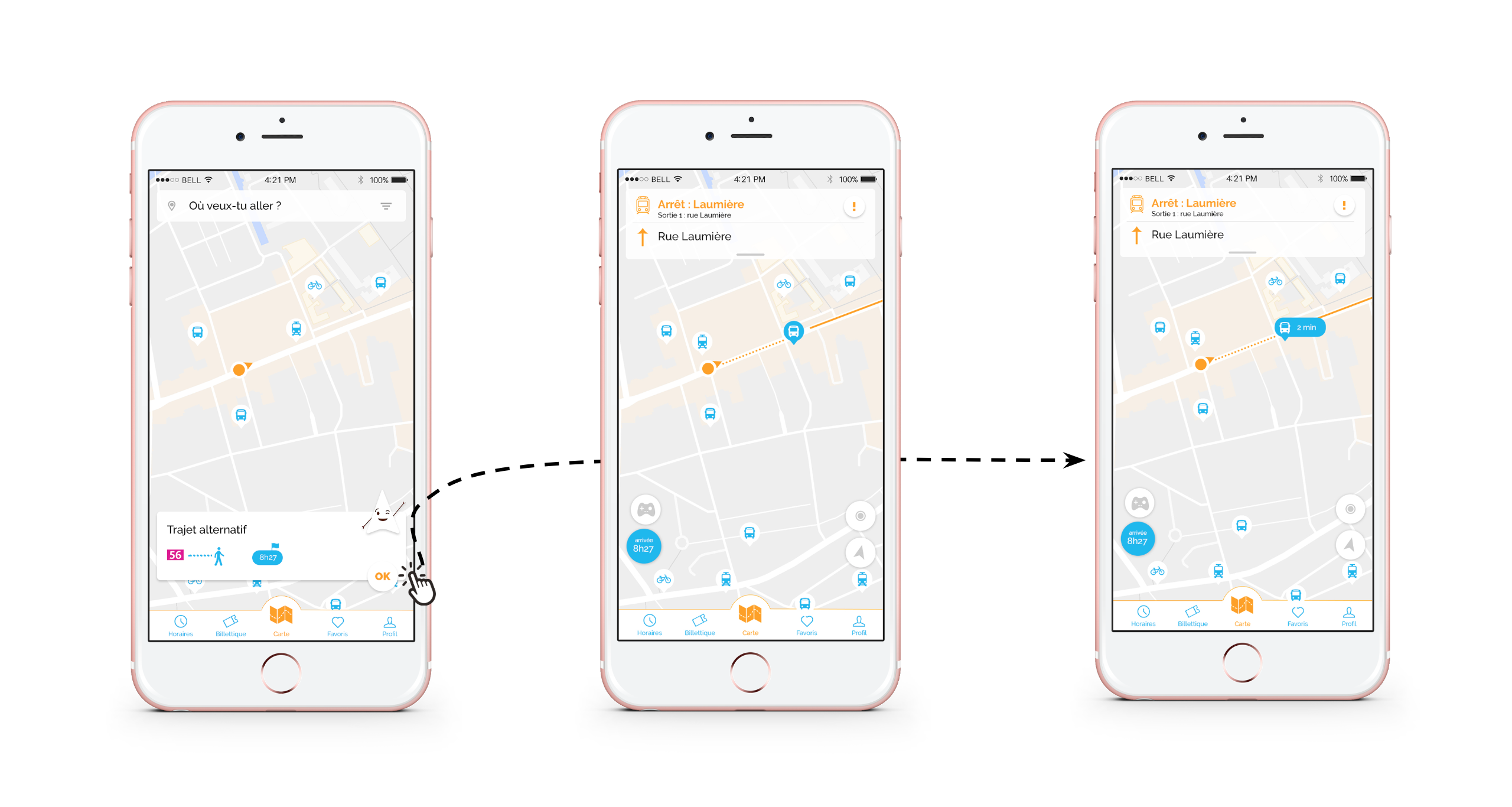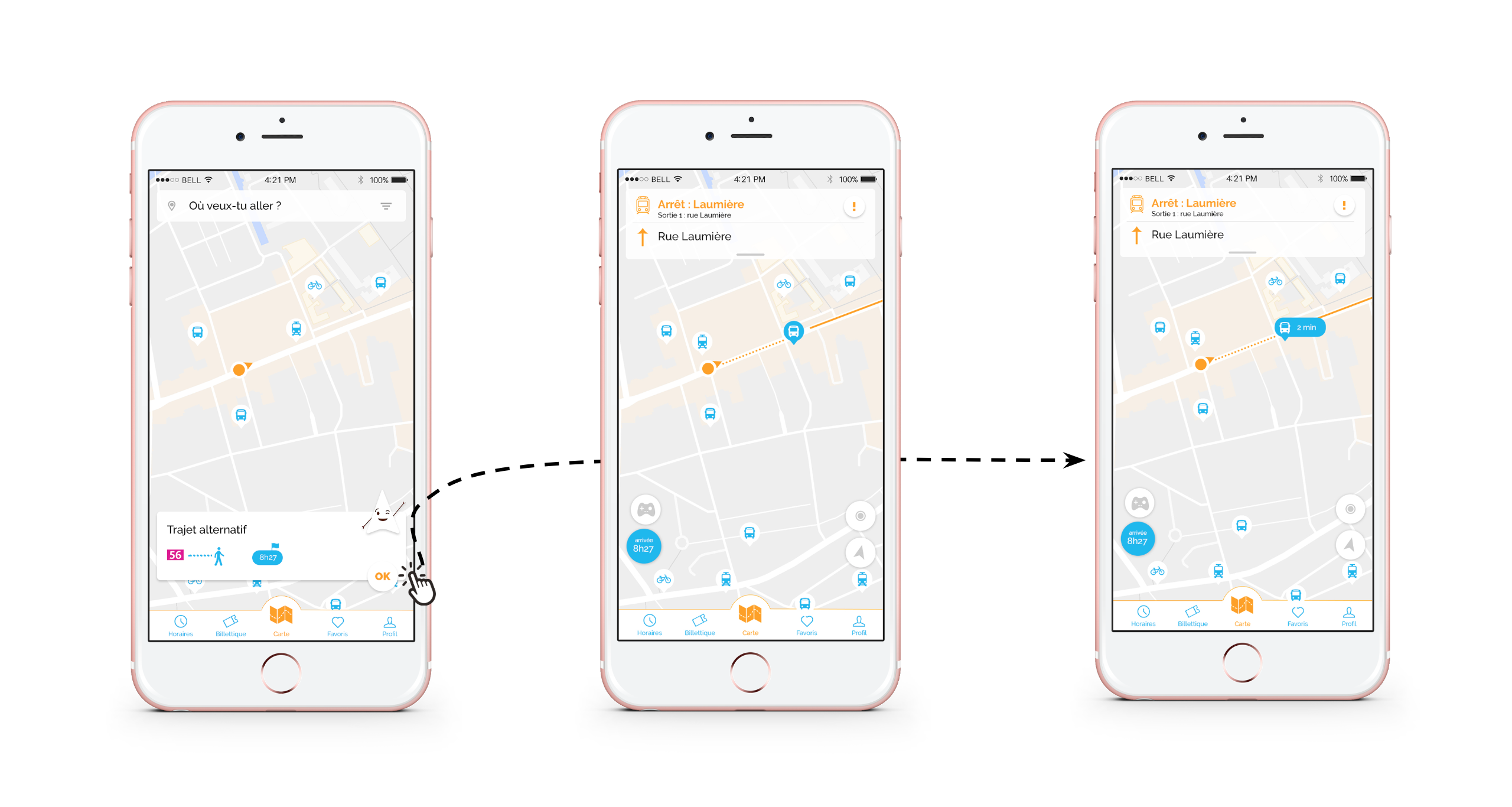 NEXT STEPS
We recommend to carry out live field test. It means go out, try the app, and verify: 
- The relevancy of the app
- The relevancy of its usage
This is all the more important given the level of development required and the connection with such specific sources of data (attendance, timetable, alternative itineraries, in-app payment…) 
The tests should focus on the following points : 
- Is the search itinerary feature fast to understand and holistic in its content?
- Does the search itinerary feature provide with itineraries that help users? Especially users with limited mobility (people with wheel chair, pregnant women, older people…)
- Are intermodality and related payments (VTC account, Taxi, Velib, Coriding…) already working ? Will they be in the near future? 
- Is gamification interesting and informative enough to users?
- Is the interactive map understood? Does it require a time to adapt to it? Does it need a tutorial?
When that workpackage is achieved and followed up with others tests, a live rollout can be considered. A serie of modification on the most sensitive point will need to be carried out beforehand as well. 
To fix bigger issues and provide features that users want, a serie of iteration will be used. 
IN THE FUTURE
For the 2024 Olympic Games, our starting hypothesis is that the present app could use some new features that would fit right into Vianavigo initial goal. 
JO Mode : For 2024 and for communication purpose, we suggest to keep the same app and to add a graphic overlay similar to the Olympic Game 2024 graphic chart. 
Facilitation : For tourists coming for the Olympic Games, an auto completion feature based on sport could be interesting to help them commute in Paris.
Exemple : search for "Javelin" and find out where will be held the next competition
Gamification : To foster rewarding gamification, giving out trophies matching with the Olympic Game spirit can drive higher engagement to unlock all trophies. 
[unex_ce_button id="content_2znl52j4h" button_text_color="#ffffff" button_font="semibold" button_font_size="15px" button_width="auto" button_alignment="center" button_text_spacing="2px" button_bg_color="#50b6e9" button_padding="15px 60px 15px 60px" button_border_width="0px" button_border_color="#000000" button_border_radius="0px" button_text_hover_color="#ffffff" button_text_spacing_hover="2px" button_bg_hover_color="#000000" button_border_hover_color="#000000" button_link="https://drive.google.com/file/d/1HApbPiH_AnJouhWOnbtEnwEGGQtDsu6K/view?usp=sharing" button_link_type="url" button_link_target="_blank" has_container="1" in_column=""]READ THE FULL STUDY (IN FRENCH)[/ce_button]